Woodside Health & Care Centre
The new Woodside Health and Care Centre has been built to replace the existing 1970's facility which has come to the end of its useful life no longer meeting current standards of building fabric, environmental conditions and accessibility.

The existing facility was an exemplar design at the time and was replicated over a number of sites. The new centre brings together a range of primary and community care services that were located across various sites in Glasgow with the intention that Greater Clyde and Glasgow NHS can offer a more integrated and efficient service for the local community.
Glasgow is a city characterised by its historic pre-1900 adherence to built for against the street edge and this typology generally followed a grid form of rectangular blocks. Where these grids intersected with the more organic nature of peripheral road development special types evolved to deal with these junctions. These became know as 'gushet blocks' and a number of distinctive corners historically existed in the Maryhill and Garscube road corridors including work by Greek Thomson. Woodside is one of these
The new building brings a significant urban scale and presence back to the area and each corner of the gushet contains an entrance marked by precast concrete panels containing artwork reliefs designed by Bespoke Atelier. Each entrance defines a key component of the brief; The Health Centre; Community Addictions and Elderly Daycare.
The predominant material facing the urban street edge is a hand-cut brick whilst the inner courtyard, clad in western red cedar reflects the quieter, softer nature of these less defensible elevations. The street elevations reflect the local materiality of the surrounding developments however the subtle detailing of the brick with its double string coursing and large window openings pays homage to the historical nature of the area (when it was largely tenamental) and at the same time breaks down the massing of the skin.
Due to the change in level across the site the lower ground floor contains the Glasgow City Council Day Care Centre and its associated courtyard garden. The ground floor is the public level containing community services reception, community accommodation, a Dental Practise and a Pharmacy. The first Floor is a semi-public level containing the GP consulting rooms, waiting areas and receptions – all orientated around a top lit glazed central atrium space. The second floor is a private level for staff only containing agile working spaces and the staff café.
PROJECT: Woodside Health & Care Centre
CLIENT: NHS Greater Glasgow & Clyde & Hub West Scotland.
ARCHITECT: Page\Park
STRUCTURAL ENGINEER: Baker Hicks
SERVICES ENGINEER: Cundall
QUANTITY SURVEYOR: Thomas & Adamson
LANDSCAPE ARCHITECT: Ian White Associates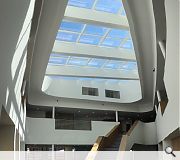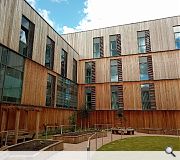 Suppliers:
Main Contractor: Morgan Sindall
Back to Health