The Beresford

Beresford Developments commissioned 3D Architects to convert the Grade B listed Art Deco former Beresford Hotel into 112 apartments with 13,000 sq ft of retail and restaurant space.
The Beresford Hotel, built in 1938 for the Empire Exhibition, was Glasgow's first skyscraper. Standing an impressive ten stories high, its Art Deco curved towers of the façade reflected design adopted in many of Glasgow's cinema's throughout the 1930s.
The existing building light-well at the centre of the plan was adapted to incorporate deck access and provide dual aspect apartments. The high quality landscaped courtyard within the light-well has transformed a previously unused roof deck into a vibrant, quality external space for residents.
Due to its Listed Building Status the planning process involved continuous discussion and negotiation with both the Planning and Heritage & Design Departments of Glasgow City Council and Historic Scotland mainly relating to the proposed Rooftop Extension. A combination of black polished granite and buff ceramic tiles were employed to the single storey extension in a positive contemporary response to the Art Deco style.
The original building colour scheme was innovative for its time and thus controversial. This colour scheme has been respected and reinstated assuming the same sophistication and stature that once saw it tower above the Glasgow Skyline.
The refurbished 'Beresford' appeals again to an audience for whom modernity and function must be counter balanced by an innate understanding of the importance of style.
PROJECT: The Beresford
LOCATION: Sauchiehall Street, Glasgow
CLIENT: Beresford Developments
STRUCTURAL ENGINEER: Ramage & Young
SERVICES ENGINEER: Henderson Warnock
QUANTITY SURVEYOR: Ross & Morton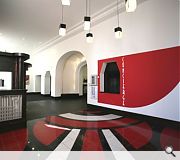 3D Architects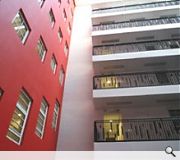 3D Architects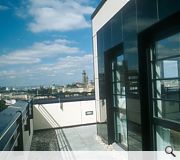 Bill Robertson
Suppliers:
Main Contractor: Tannson Ltd
Photographer: Bill Robertson & 3D Architects
Back to Historic Buildings & Conservation