The Bayes Centre
The Bayes Centre is a new world-class business and learning centre for the University of Edinburgh which brings together academics and students working in the fields of data technology, design informatics, maths and robotics with start-up / spin-out companies and industrial collaborators. It is a building worthy of Edinburgh's reputation and leadership in these fields.

The Bayes Centre marks the final phase of the Potterrow Development, following the completion of the much lauded Informatics Forum and Dugald Stewart Building also by Bennetts Associates and completed in 2008. A charismatic academic lead championed the move to a more collaborative, open plan workspace. Despite initial reluctance from those used to working in a traditional cellular way, the new working environment has been embraced with great enthusiasm.

The new building follows the principles of the original design for the School of Informatics and uses the same external materials: local sandstone to the outside of the block and polished white concrete to the interior, with prominent feature windows and double height balconies on a city scale. The entrance colonnade on Potterrow and the oak lining to protected walls and soffits give coherence to the whole block. The atriums of the School of Informatics and Bayes now face each other across a new public courtyard, which will be used for events such as graduations, design shows and festival performances.

Internally the building was designed as a cousin of the School of Informatics rather than a twin. As the ethos was to encourage interaction between different academic groups, spaces for serendipitous encounters are carefully designed. The tiered atrium has numerous gathering spaces, the open circulation and stairs allow people to meet in passing, the fourth floor roof garden has stunning views of Arthur's Seat and the ground floor café complete with a museum of 'antique' robots is always busy with meetings, solitary working and socialising.

The ground and first floors feature large Edinburgh Centre for Robotics labs, where, for example, the robot Valkyrie is being developed in conjunction with NASA for Mars landings. These are placed at the heart of the building, making this ground breaking work very visible for the first time.

PROJECT: The Bayes Centre
ARCHITECT: Bennetts Associates
STRUCTURAL ENGINEER: Buro Happold
SERVICES ENGINEER: Buro Happold
QUANTITY SURVEYOR: Turner and Townsend
LANDSCAPE ARCHITECT: Ironside Farrar
PROJECT MANAGER: Faithful and Gould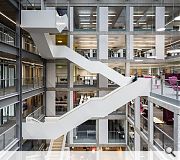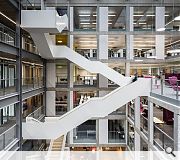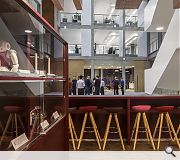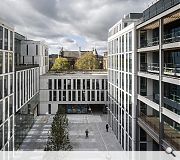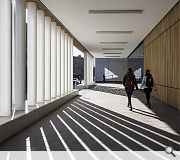 Suppliers:
Main Contractor: McLaughlin and Harvey
Photographer: Keith Hunter Photography
Back to Education