Native Glasgow
The primary aim of the design was to bring purpose and life back into the Anchor Line Building, a fine Grade A listed building in Glasgow's Central Conservation Area, which had fallen into a state of disrepair to the extent it has been included on the Buildings At Risk Register for Scotland. The building's character and location informed the requirement to create a high-quality development, linked to the Client's existing dining and social accommodation in the ground floor and basement.
Repurposed on the upper floors as a 64 bed apart-hotel, each layout respected the original plans, whilst great care was taken to retain and repair original architectural details where possible, or precisely replaced where required. A sensitive 1-storey extension at roof level, set back from all edges, provides additional accommodation while respecting both the classical symmetry and materiality of the building.
Opened in September 2018 as Native Glasgow, the development contri butes to the vibrant cultural and commercial life of the city, helping to secure the long-term future of the building.
PROJECT: Native Glasgow
LOCATION: St. Vincent's Place
ARCHITECT: ICA
STRUCTURAL ENGINEER: Woolgar Hunter
SERVICES ENGINEER: Atelier Ten
QUANTITY SURVEYOR: Gardiner & Theobald
PROJECT MANAGER: PMP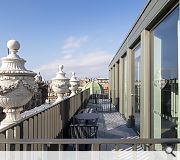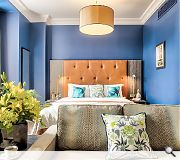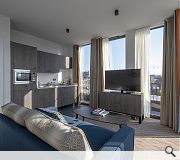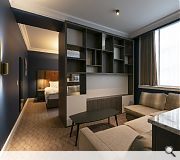 Back to Retail/Commercial/Industrial