Ibis Styles Glasgow Centre West
Originally built for use as an office block in the 1960s, Douglas House spent many years unused until its recent transformation. ICA have reimagined the building, creating a hotel that marks its presence in the area. The existing dated and tired glazed façade was removed and replaced with a proportional grid frame; bringing the glass box to life by capturing light and shade. Vertical extrusions are introduced above the existing plinth to draw the eye up the building and accentuate its height.
The hotel's interior design takes inspiration from Scotland's iconic musical legacy. There are three different colour schemes with a consistent design story throughout; featuring a custom carpet design that depicts world-famous Glasgow music venues. Each scheme is punctuated with vibrant furniture that adopt the playful Ibis Styles brand ethos. This extends throughout the hotel, particularly in the lobby which is decorated with a customised grand piano reception desk, bespoke pendant lighting, and a retro jukebox. Exposed concrete columns and beams create an atmospheric backdrop to the scheme and are layered with a muted palette of warm timbers, soft greys and tan vinyl. This makes for a casual, comfortable and relaxed feel.
The hotel invites people to live/work/play in the spaces. Fresh shop-front glazing to Waterloo and Douglas street creates a dynamic frontage for the hotel which now invites people to, not only stay in the hotel's new suites, but to pass time in the ground floor bar and Tinderbox coffee shop. The finished hotel is the fifth Ibis Styles completed by ICA.
PROJECT: Ibis Styles Glasgow Centre West
LOCATION: Douglas House, Waterloo Street
CLIENT: Calmont Sugarhouse
ARCHITECT: ICA
STRUCTURAL ENGINEER: Woolgar Hunter
SERVICES ENGINEER: Atelier Ten
QUANTITY SURVEYOR: Thomas & Adamson
PROJECT MANAGER: Calmont Sugarhouse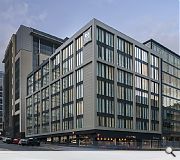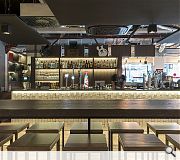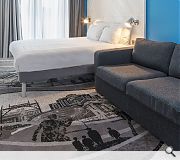 Suppliers:
Main Contractor: Thomas Johnstone
Back to Retail/Commercial/Industrial