The Black House
This coastal house is built in a prominent location, being very visible from approaching ferries and the pier. The site is within a wooded area, with a flat plateau at the top, sloping down to a steep rock face meeting the shore.
The obvious and easiest place to build would have been on the flat area at the top, which the seller had cleared with this intention. The view is beautiful from here but feels removed from the shore. We wanted to control the drama of the site, as well as exploiting the view we wanted to crate an intimate relationship with the shore and rocky landscape. Our approach was to drop a two storey box into a natural hollow in the bay.
When approached from behind the house appears as a modest single storey black gable. From the front a two storey glazed gable cantilevers out dramatically over the rocky foreshore. The idea of control and drama is carried through the interior.
As you descend the staircase the view through the frameless glazed gable dominates the main living space. The house id filled with books, art and objects but everything has a place and it doesn't feel cluttered. The end result is quite sculptural.
The entrance lobby is narrow and unremarkable, but from there you enter a double height library/stairwell lit from above, the view is not yisible but the drama of the light from above and the verticality gives you a sense of the hidden volume of the building.
PROJECT: The Black House
LOCATION: Isle of Skye
CLIENT: Julian and Delia Thomas
ARCHITECT: Dualchas
STRUCTURAL ENGINEER: IPM Associates *Scotland) Ltd
SERVICES ENGINEER: Scottishsapassessor
QUANTITY SURVEYOR: Jon Howarth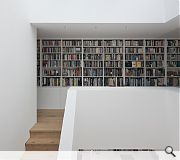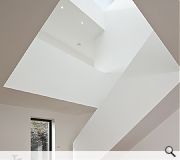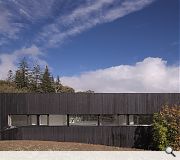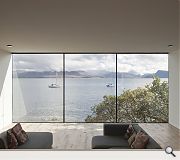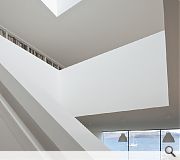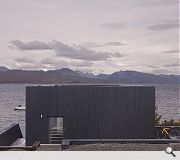 Suppliers:
Main Contractor: J&W cook
Photographer: David Barbour
Back to Housing