Queens Road
The clients first approached Hyve in 2015 to explore options for their Edwardian terraced house. It was already a lovely family home but it was fast becoming very tight for living space with a growing family of five children and a dog. They had aspirations to build a contemporary extension, light filled, opening up the house to the garden.

Queens Road is just within Stonehaven conservation area, an attractive Edwardian terrace, situated looking east towards the town centre and the sea. The house itself is a 3 storey town house with a basement for storage.
The existing ground floor plan followed a typical layout with an entrance hall, stairway and living space to the front and kitchen/dining space with a separate long narrow utility space to the rear. From the utility you could access a tiered deck with steps down into the west facing garden.

Through the design process a simple pitch form developed, zinc clad with a fully glazed gable onto the garden. This allowed for an open plan kitchen, dining space living space which focuses out into the garden. Opening up right across the back wall of the house has created a generous the kitchen within the existing house and dining space between the old and new, with steps and a glass balustrade leading down into the living space and out into the garden. The utility space and family shower room have been located centrally to the plan, more accessible form the rest of the house and allowing the main living spaces to maximize the natural light available.
PROJECT: Queens Road
LOCATION: Stonehaven
CLIENT: Jackie and Richard Cochrane
ARCHITECT: Hyve Architects
STRUCTURAL ENGINEER: Graeme Craig Consulting Engineer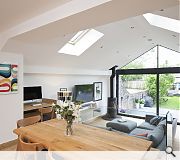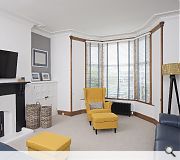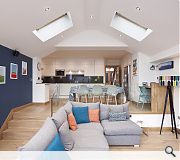 Suppliers:
Main Contractor: Sunnsyside Construction
Photographer: David Barbour
Back to Housing