St Devenick's Terrace
The brief was very simple and restricted in scope. The main requirement was to create a new open plan kitchen and family area on the ground floor to the rear of the existing property by removing an internal load bearing wall. The client also wanted to improve bathroom facilities upstairs as the family bathroom was very limited in size.

The property is a granite built period property whose front elevation faces St Devenicks Terrace and the Deeside Way. Consequently, the main everyday access to the property is from the parking area and lane at the rear. Access was via a door on the back elevation, through a utility space and door into the cramped and dark kitchen. The property had a large rear garden, but it was divorced from the rooms inside, and there was little opportunity to enjoy a view of the garden from the kitchen. Upstairs a series of alterations had been made to create a small bathroom by installing a very unsatisfactory flat roofed dormer next to an original dormer window. The bathroom was inadequate, the dormer was both visually unappealing and it was leaking.

The first main design move was to relocate the rear entrance to the side of the building, in a more convenient and efficient location for the internal floor plan. This created an opportunity to maximise views of the garden to the rear. The internal loadbearing wall was removed to form an open plan space, and utility facilities and ground floor toilet were re-located to the darkest part of the floor plan so that light was maximised in the main kitchen space. A connection to the garden was created by the addition of a frameless oriel window, giving uninterrupted views of the garden by removing the corner of the building. The new window cantilevers to form a deep window seat reveal, allowing family members to sit at the table in the sunlight in a beautiful social space.

The existing first floor dormer was replaced with a contemporary dark grey zinc clad addition, contrasting with the original building and complimenting the existing granite masonry walls and slate roof. The new dormer allows light to flood into a re-arranged bedroom and a new, more spacious bathroom has been formed making use of an existing small window on the rear elevation.
The design solution has answered the client's brief exactly, but it has achieved much more. The finished home is light and bright. Although no floor area has been added, it feels more spacious because it is organised to maximise the available area and the garden is now part of the home which increases the sense of space. The design of window alterations has answered an ordinary brief with a striking, contemporary and more unique solution to enhance the overall appeal of the property.
PROJECT: St Devenick's Terrace
LOCATION: Aberdeen
CLIENT: Mr Fairbairn & Ms Dixon
ARCHITECT: Hyve Architects
STRUCTURAL ENGINEER: Graeme Craig Consulting Engineer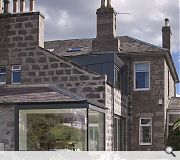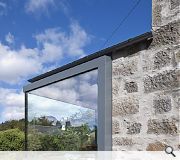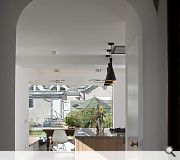 Suppliers:
Main Contractor: Monarch Conservatories Scotland Limited
Photographer: David Barbour
Back to Housing