Kesson Court
This project provides replacement amenity housing in Elgin on behalf of Hanover (Scotland) Housing Association comprising 21 new two bedroom apartments including three wheelchair accessible cottages. .

At the heart of the development is a communal garden. Based around this, higher density flatted dwellings provide a 'bookend' to the north and a row of three cottages to the south address the street and tie into the residential scale of the existing dwellings opposite. Vehicle access has been restricted to the North and South boundary utilising existing vehicular access allowing the main body of the site to remain car free.

It was key to the design of the scheme to provide taller accommodation to the north and lower to the south to minimise overshadowing of the communal garden, garden room, planting and seating areas. This layout helps minimise the built footprint and maximises the (permeable) landscaped areas, whilst achieving the best orientation for all the dwellings in terms of passive solar gain, with the aim of helping reduce the energy consumption of the development relating to heating and lighting requirements. Trees were specified to assist the brise soleil fitted to the south elevation of the flats to provide natural solar shading in the summer months, and the landscaped garden designed to encourage communal use for all the residents.

The adjacent river Lossie has a history of flooding and the the new buildings were to replace existing flood-damaged Hanover blocks on the site. As such the ground floor construction was designed to be resilient to potential flood risk using masonry construction, whilst the upper floors are lighter weight, highly insulated timber frame construction with timber cladding in order to provide a softer aesthetic. Sedum roofs to the flats help mitigate rainwater runoff.

The cladding was designed to be an open-jointed rainscreen, neatly mitred at corners and cut with vertical shadow gaps at each window opening. There was a requirement to accommodate bats within the project so proprietary bat boxes were incorporated within the exterior walls at the west end of the flats and the timber cladding cut neatly to suit.

Each property is fitted with a heat interface unit (HIU) from a centralised boiler, providing instantaneous direct hot water and indirect secondary heating, which omits the requirement for individual gas boilers and provides both the housing association and residents with a highly efficient and easily managable centralised heating system.

PROJECT: Kesson Court
LOCATION: Haugh Road, Elgin
CLIENT: Hanover (Scotland) Housing Association
ARCHITECT: Icosis
STRUCTURAL ENGINEER: Cameron + Ross
SERVICES ENGINEER: Rybka
QUANTITY SURVEYOR: Armour & Partners
LANDSCAPE ARCHITECT: Rankinfraser Landscape Architecture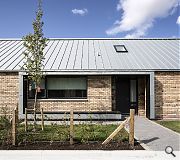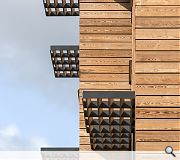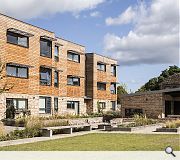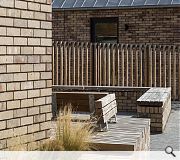 Suppliers:
Main Contractor: Morrison Construction
Photographer: Keith Hunter Photography
Back to Housing