Powell Hall
Working with Campus Living Villages and the University of St Andrews, HLM were appointed in November 2016 to develop proposals for two gap-sites within St Andrews located adjacent to existing student halls of residence. The accommodation brief was to provide nearly 400 new bedroom spaces as part of the largest single expansion of student bedrooms in St. Andrews for over a decade. The 2 new buildings which are now complete were designed, developed and delivered within 2 years of appointment.

Located within the University of St Andrews North Haugh Campus, Powell Hall (named after Renee Powell the American professional Golfer) provides 205 modern student bedrooms delivered alongside high quality interactive common spaces. Taking its cue from the courtyard blocks of the existing hall, the three-sided u-shaped extension creates a new central courtyard space or quad at its heart.
The predominantly 4-storey building is principally clad in masonry to the perimeter facing elevations with a rainscreen cladding to the inner courtyard face. A fifth story is then added to the north side which is expressed as a lightweight rooftop extension, and which sits comfortably within the scale and volume of the surrounding buildings.

The colour palette and finishes reflect and enhance the visual amenity within the local North Haugh Campus area. The elevations bounding the site incorporate light buff solid masonry and light grey polished concrete cladding panels. Bronze coloured zinc detailing and surrounds further animate the façades whilst the angled window pods offer views out to the landscape northwards; a small nod to the Category A listed Andrew Melville Hall to the west by James Stirling. The lightweight rooftop extension is also clad in bronze coloured zinc.

The social, study and common spaces throughout the building are then located in prominent positions; for example, on the north east and north west corners to the building approach which help activate and animate the façade. These key spaces are then expressed on the facade as 'pop-out' boxes clad in zinc, one of which is double height.

A double height space at ground and first floor to the west provides social and common space close to the existing hall and as a prominent active ground floor frontage to the new annexe. Students are drawn through these spaces upon entering the building along the route to the main vertical circulation cores as a means of encouraging interaction and engagement between students.

Newly formed parking, drop off and entrance plaza creates a high-quality arrival space.

PROJECT: Powell Hall
LOCATION: North Haugh, St Andrews
CLIENT: University of St Andrews
ARCHITECT: HLM
STRUCTURAL ENGINEER: Woolgar Hunter
SERVICES ENGINEER: Atelier Ten
QUANTITY SURVEYOR: Gleeds Management Services Limited
LANDSCAPE ARCHITECT: Ironside Farrar
INTERIOR DESIGNER: HLM
PROJECT MANAGER: Gleeds Management Services Limited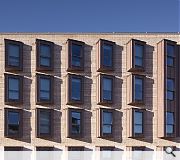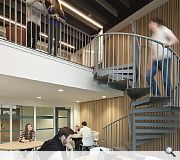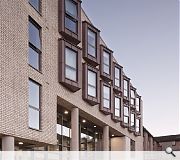 Suppliers:
Main Contractor: Sir Robert McAlpine
Photographer: David Barbour
Back to Housing