Cupar Burgh Chambers
The restoration of Cupar's Burgh Chambers reinstated an abandoned and endangered historic gem to its rightful position as the dazzling centrepiece of the town's Georgian townscape, and a symbol of economic regeneration in a struggling town centre.
Neglected for 40 years, this Common Good building was brought back to life in a imaginative and faithful restoration, adapting it for use as a holiday flat, complete with local furniture and paintings from the Georgian era, to visitor and community delight.

This project was the culmination of 5 years partnership work by the community, Fife Council, Fife Historic Buildings Trust and a team of specialist consultants and contractors. For decades, the community had lobbied for a future to be found for the neglected common good property.
However, the building was severely constrained by the physical arrangements of the rooms, which had very poor accessibility and difficult relationships to neighbouring properties. Feasibility studies identified a range of potential uses and following development work and further community and stakeholder consultation, the preferred use emerged as a short-term holiday let.
This use accommodated the access constraints, limited impact on historic fabric, was financially viable in the long term and delivered community benefits.
The 148m2 building is B listed and sits at the key town centre location, with an elegant bow front and clocktower overlooking Cupar's wide medieval marketplace. Neglected for many years, the building's condition was poor and it was designated 'At Risk'. Structural movement had required emergency steelwork to be installed, masonry was spalling, the clocktower leaning and water leaking. It looked terrible, a symbol of decline at the heart of the conservation area.
Technical investigations revealed a complex building with layers of construction phases presenting challenges to its structural and fire safety integrity and complex relationships to neighbouring buildings. This made it impossible to install a lift, constraining potential uses.
The philosophical approach was to retain as much original fabric as possible and enhance authenticity with the reinstatement of historic finishes and removal of modern interventions. Contemporary improvements were either hidden or simply presented in an understated manner, deferring to the historic fabric.
A detailed process of designing conservation repairs included lime plastering and elaborate cornices, a lead dome, burgh streetlamp, clock and weathervane restoration, extensive joinery repairs and window restoration. An especially complex process of removing cement and synthetic paint from the existing sandstone facades was completed through painstaking steam processes, followed by hand tool stone repairs and repointing. This allowed the existing distorted masonry window openings to be retained, with the original sash and case windows brought back to working order.
During the works, many original historic features were uncovered, most retained to increase the heritage value of the completed project. Energy efficiency was dramatically improved with the introduction of up to 300mm of sheep's wool, a natural renewable form of insulation that mitigated the risk of interstitial condensation. Acoustic insulation to the shop below was also substantially enhanced.
An innovative passive stack natural ventilation system with heat recovery was installed, using redundant chimney flues to provide fresh tempered air, without heat loss. This avoided ingress of noise and air pollution from the adjacent main road through open windows.
'Change of Use' requirements for building standards were challenging to resolve, requiring extensive consultations and specialist design over fire safety, accessibility, acoustics and thermal performance. The interiors were carefully designed to achieve a modern level of comfort, while retaining original fabric and bringing a level of local historic authenticity and character. A suite of authentic Georgian colours was matched to the individual sequence of spaces. Light fittings were carefully selected to suit the period, while the new kitchen was designed as a discrete and sympathetic contemporary intervention.
The team worked with the local historical society to source a range of local paintings, etchings and artefacts displayed throughout the building. A local Scottish furniture expert helped to identify and source original Georgian furniture, including a long clock and other items made in Cupar. All of this added to the locally authentic character of the restoration and the quality of the visitor experience.

The total project cost was £571,000 (£3,858/m2 incl. fees) and this was provided from a range of grant bodies including the Heritage Lottery Fund, Historic Environment Scotland, Fife Council and Fife Environment Trust. A total of £297,840 was grant funded.
The property rents for around £570/week and is managed by Fife Historic Buildings Trust on behalf of Fife Council, who own the building as a common good property. FHBT employs a local person part-time to manage the building. https://fifehistoricbuildings.org.uk/fife_holiday_lets/cupar-burgh-chambers/ Bookings have exceeded targets.

The revenue generated funds the long-term maintenance of the building, with any surplus contributing to the town's common good fund. The building is available to the community for suitable uses, such as providing accommodation for artists in residence during Cupar Arts Week or as a place to visit during Doors Open Day. This was another advantage identified in the use as short-term let.
The team ran an extensive community engagement programme to showcase the project:
• Doors Open Day began gave many residents their first chance to see inside the building
• Hard hat tours gave stakeholders a chance to meet the architect and contractors and see restoration work up close.
• Courses for local contractors demonstrated sash & case window and masonry repairs.
• Training for Fife Council masonry apprentices used it to highlight common repair and maintenance issues.
• High School students visited at several stages, meeting the architect, Project Officer and CARS Energy Efficiency
Officer. Learning included architecture, design, energy efficiency and traditional skills. As a result, the school hosted
a traditional skills/careers showcase on campus.
• An over-subscribed open day for the public after completion – with overwhelming positive feedback from local
residents and groups.

This project has been a stand-out success, not just in conserving the historic fabric of an important building and financially safeguarding it long-term for the benefit of the community, but in using finite resources to also deliver training and learning for local people, creating a powerful symbol of economic regeneration for a struggling town centre, and showing how cross-sector partnerships can deliver sustainable futures for challenging common good buildings. In this, the project is an experience to share with other communities.
PROJECT: Cupar Burgh Chambers
LOCATION: 5 St Catherine's Street
CLIENT: Fife Council c/o Fife Historic Buildings Trust
ARCHITECT: Arc Architects
STRUCTURAL ENGINEER: David Narro Associates
SERVICES ENGINEER: Harley Haddow
QUANTITY SURVEYOR: Hardies Property & Construction Consultants
INTERIOR DESIGNER: Ambient Interiors
PROJECT MANAGER: Fife Historic Buildings Trust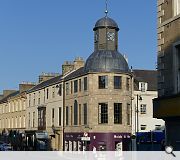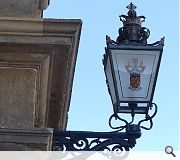 Suppliers:
Main Contractor: John Smart & Son (Kirkcaldy) Ltd
Photographer: Tom Morton
Back to Historic Buildings & Conservation