Boroughmuir High School
Boroughmuir High School was commissioned directly by the City of Edinburgh Council through an open competition. The design brief aim was to seek an inspirational and innovative design that would be an exemplar school in the city. The steeply sloping location was an exceptionally tight and complex urban brownfield site and this was in many ways the inspiration for the design. An existing masterplanning design, also by Allan Murray Architects, established the key massing, movement and character for the whole canalside regeneration.

The very significant constraints of a very tight sloping site meant that a design solution could not 'spread out' as many schools do but required a much more condensed, multi level integrated form. In accommodating so many disparate scaled spaces - sports halls, gyms etc to small rooms and teaching spaces the design had to embrace a much more complex internal spatial geometry.

The clients were excited by our enthusiasm and the challenge of such a constrained site and engaged positively with us in developing and nurturing innovative ideas; we developed in the design ideas about social space as teaching space, inverting hierarchies, multi experienced spaces, spaces that never were (the much celebrated rooftop MUGA), connection to the community, integration with 'place', identity and civic pride, passive spaces, dynamic spaces, how light affected our experience of spaces and how it travelled through a building during the day. Why a view was important, how a space can be the 'heart' of the building and how teaching spaces need to feel less compressed filled more with volume and light - more comfortable to spend time in and engage with learning. We sought to make every sq m of space work harder to contribute more to the experience of the pupils and staff. We sought to bring to our design a spirit of innovation, creativity, educational ambition that we had seen on our visits to exemplar schools in Europe and also to challenge traditional pedagogical space and bring as much life, light and joy to the school as possible.

The organisation of spaces was designed to take advantage of the site levels - large volume spaces 1-2 social spaces, classrooms levels 3-5. This approach helped make this very large building feel like it was more intimate. Integrating and enhancing the large P.E. accommodation into one building means that the school can offer a much enhanced curriculum and significantly reduce busing of pupils to Meggetland for sports. Creating a rooftop games area was an innovative but effective response to the masterplan strategy for civic scale along Dundee street - gaining much needed space for free!

Concrete construction with exposed soffits allowed us to embed as much thermal energy as possible. We have used natural ventilated spaces where possible and have maximised the potential for natural light throughout the building. The client's and the school teacher's responses have been resoundingly positive about the school and believe that it offers an exciting future for the school and an exemplar for others to follow.
PROJECT: Boroughmuir High School
LOCATION: 111 Viewforth, Edinburgh
CLIENT: The City of Edinburgh Council
ARCHITECT: Allan Murray Architects
STRUCTURAL ENGINEER: Buro Happold Engineering
LANDSCAPE ARCHITECT: John Richards Landscape Architect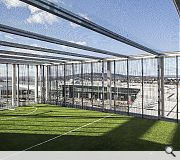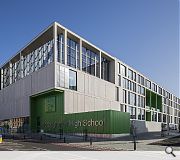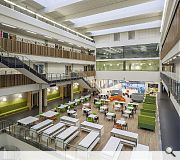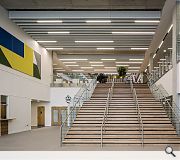 Suppliers:
Main Contractor: O'Hare & McGovern
Photographer: Keith Hunter
Back to Education