Hydro Gardens
The site slopes up from Innerleithen Road to the south to a mature tree belt (on the line of the former railway) to the north, with Peebles Hydro hotel sitting above the development to the rear. The site is within Peebles Conservation Area with a row of large 19th century villas to the west and single storey cottages to the east.

The development has been sensitively designed by EMA Architects + Masterplanners to complement the surrounding context. The detached villas to the front of the site maintain the building line established by the existing adjacent properties and reflect their scale, style and materials.

The terraced gardens and boundary treatments are also reflected, with garages and vehicle access to the rear. The terraced houses to the rear are smaller in scale reflecting a mews/stable arrangement and pick up detailing from the Hydro including astragals to upper sashes of the casement windows. The flats are set into the slope with mansard roofs, again reflecting the Hydro, to minimise visual impact both from the road and hotel.

The layout, together with the topography, allow all of the properties to benefit from a south facing aspect and the open views across playing fields to the hills beyond.

A single road access off Innerleithen Road minimises impact on this busy through road, with landscaping to either side providing an attractive avenue approach before the road splits left and right to shared access surfaces encouraging a community feel. A footpath connection leads to from the central junction up through the tree belt to the rear to link with the existing right of way through the Hydro grounds which provides an off-road route/cycle path from Edinburgh Road to Janet's Brae and Glentress and to the Tweed Valley Railway Path.

The development is due for completion later this year by the developer Queensberry Properties and has proven highly successful commercially, with almost 90% of all properties being sold off plan.
PROJECT: Hydro Gardens
LOCATION: Innerleithen Road, Peebles
CLIENT: Queensberry Properties
ARCHITECT: EMA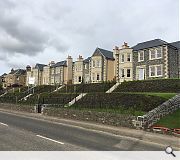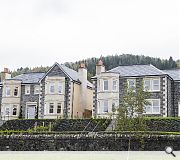 Back to Housing