Kirkintilloch Town Hall
Kirkintilloch Town Hall was opened in 1906 as a community hall, providing a valuable local asset. Sadly, due to a lack of funding and the steady decline of the wider town centre, the building was closed in 2004, then falling into a state of disrepair which culminated in its addition to the Buildings at Risk Register. Since its closure the hall had been the focus of several community-led restoration
attempts.

Scottish Government reviews prompted the Kirkintilloch Town Centre Masterplan, which was published in 2013. Its aims were to secure a successful, sustainable future for Kirkintilloch Town Centre.Following various community consultations to identify how the restoration of the building would best meet the needs of the wider community, East Dunbartonshire Council proposed to restore the
Grade 'B' Listed Building as a Community Arts and Heritage Centre, and in 2015 MLA were appointed by hub West Scotland to develop proposals to refurbish, restore and extend the town hall in order to meet a number of new requirements.

The overall design sought to create a juxtaposition between new and old through the integration of a new extension which provides more flexible space for community uses. The extension adopts architectural features in response to existing architectural datums of the existing building - picking up on these datums and with subtle use of colour, a coherent visual composition is created.

Working closely with Historic Environment Scotland, the conservation and restoration of the external sandstone was undertaken. Internally the original plaster ceiling was rigorously recorded prior to its removal and was completely restored achieving a breath-taking space. In addition to the ceiling restoration the listed stained glass entrance screen was carefully removed and fully restored
to provide a clear connection to the building's past.

The building provides a legacy for future generations and maintains a valuable link to the town's historic past. The restoration has helped to stimulate growth along the main street, breathing new life and vibrancy into Kirkintilloch's centre, with the rejuvenated Town Hall at its heart.
PROJECT: Kirkintilloch Town Hall
LOCATION: Union Street, Kirkintilloch
CLIENT: East Dunbartonshire Council
ARCHITECT: Michael Laird Architects
STRUCTURAL ENGINEER: Struer Consulting Engineers
SERVICES ENGINEER: Hawthorne Boyle
QUANTITY SURVEYOR: Doig & Smith
LANDSCAPE ARCHITECT: Harrison Stevens
PROJECT MANAGER: Hub West Scotland Ltd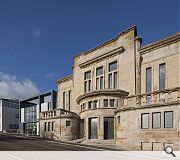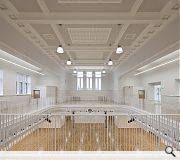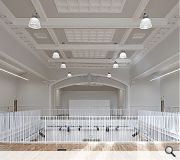 Suppliers:
Main Contractor: Central Building Contractors
Back to Historic Buildings & Conservation