St Comghan's Chapel
In our high pressure modern lifestyles there is a need for places where we can step out, take a deep breath and refocus.

The brief was for a new-build private chapel on a west coast of Scotland estate influenced by the abbey buildings on Iona and St. Margaret's Chapel at Edinburgh Castle. In this once-in-a-lifetime commission quality was paramount without all the usual compromises.

The site sits beside the sea and backs onto woodland. A small garden creates a transition zone before the entrance.

The building consists of simple forms, massive walls and small windows, contrasted with intricate decoration in selected areas. Typical Romanesque designs combine with Celtic key patterns and knotwork inspired by St. Comghan after whom the estate is named. The design uses simple geometric proportions of square, circle and golden rectangle and makes use of the symbolic numbers of three (the Trinity) and seven (creation, perfection, Sabbath rest).

Traditionally constructed solid granite walls carry a self-supporting stone vault and a domed apse. All stone was dressed and carved by hand in a process which would have been familiar to a medieval mason although helped by modern power tools and scaffold.

The warm sheen of the handmade terracotta floor complements the stonework and the oak. Intricate carving picks out the entrance and chancel arch. The custom bronze door handles tell the story of St. Comghan - an Irish king become monk - in the royal torc ring handles and Iona cross backplates. The tactile nature of the materials – the cold weight of bronze, the roughness of stone and the smooth warmth timber give a sense of calm and permanence.

In an age of throwaway mass production, this building is hand crafted and designed to last and stand as a place of contemplation and worship for generations to come.

PROJECT: St Comghan's Chapel
LOCATION: Kilchoan Estate, near Kilmelford
CLIENT: Kilchoan Management Ltd
ARCHITECT: GLM
STRUCTURAL ENGINEER: Elliott & Co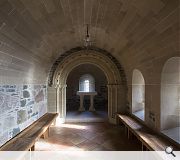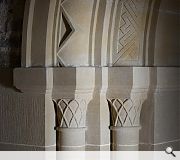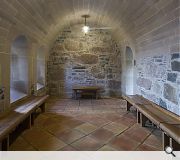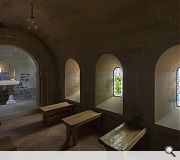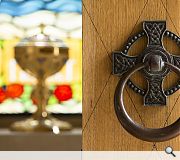 Suppliers:
Main Contractor: Ardle Construction
Back to Other