William McIlvanney Campus
The £35m William McIlvanney Community Campus in Kilmarnock, Phase 1 of which has just completed, represents an increasingly popular model in school design, where nursery, primary, secondary, specialist teaching accommodation and often extensive community facilities are all be brought together within one large, inclusive environment. Such an approach can bring an economy of scale and, if handled correctly, it can also have a hugely positive and significant impact on everyone involved. Barriers are broken down internally and externally, between the differing stages of education and between the campus and its wider community.
In this case the above facilities are supplemented by specialist Gaelic teaching provision, all housed within a bold collegiate expression. In educational briefing terms, this project represents a blend of the innovative with the more "traditional". Cellular spaces are grouped around the perimeter of each part of the plan, and placed around larger scale, more flexible spaces within. In this case, the primary school component in particular is more semi-open plan within the context of a deep plan building punctuated by courtyards and rooflights to deliver natural light to the heart of the project.

Architecturally, the project is a simple, and composed of a dignified series of 3 interconnected buildings all contained within an external aesthetic which is restrained and elegant, combining a strong sense of permanence with a controlled, open transparency revealing an interesting spatial interior punctuated by colour and light. Deep reveals provide environmental control and sinuous curves identify entrances, whilst external courtyards and carefully positioned rooflights ensure that all parts of the building enjoy the benefits of natural light.

In scale terms the secondary school is taller, and the primary and nursery areas lower with effective planning encouraging a myriad of educational connections.

A mature setting provided by the close proximity of beautifully mature trees create a visually attractive back drop to this carefully considered project.

The design is based on a brief prepared by SPACE Strategies, with strategic input from NORR and East Ayrshire Council and delivers a rich learning environments which is less than the required SFT target. This is true, palpable value.

PROJECT: William McIlvanney Campus
LOCATION: Kilmarnock
CLIENT: East Ayrshire Council
ARCHITECT: Norr
STRUCTURAL ENGINEER: Woolgar Hunter
SERVICES ENGINEER: Ramboll
LANDSCAPE ARCHITECT: Rankin Fraser
PROJECT MANAGER: Hub South West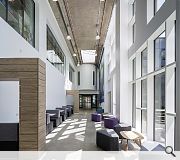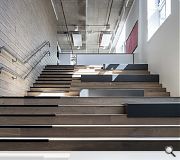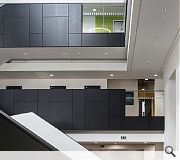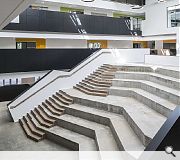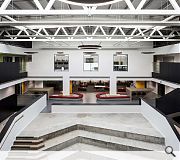 Suppliers:
Main Contractor: KIER Construction
Photographer: Keith Hunter
Back to Education