Gleneagles
The refurbishment, alteration and extension of Gleneagles; a five-star luxury hotel, including the original Category B Listed building which opened in 1924 and associated buildings throughout the 850-acre Gleneagles estate.

Over the course of 24 months, Gleneagles has seen the launch of multiple new public spaces – three bars, two restaurants, a café, an afternoon tea room, two children's adventure spaces, a salon – the redesign of the lobby and many of the main corridors, as well as 122 guestrooms and suites.

The project features the upgrading of existing front of house facilities with the reconfiguration of the Glendevon Room, the formation of the new American Bar from a former luggage store and the restoration of the Century Bar and entrance lobby.

The most significant intervention was the transformation of underutilised back of house space at the heart of the hotel. This saw the reinstatement of an original space that was functional in the hotel's early years – "The American Bar" – that had been closed in the 1990s to make room for storage and office space. The ambition of this particular project was to revive an iconic part of the hotel's early history - creating a glamorous and intimate new cocktail bar for guests to experience.

A new brasserie, The Birnam has been introduced with the extension of an existing restaurant to form a winter garden with glazed roof, living wall and operable rooflights. Connections externally have been enhanced in the new Garden Café with removal of level changes and new external terrace.

Existing beauty facilities have relocated to the North Lodge to form the new Bob & Cloche Salon and the facilities for children improved with a new purpose made teen area and modern crèche extension; Little Glen and The Den for younger visitors.

The Standout of the project would be the refurbishment of the existing guest rooms and suites throughout Gleneagles, with the implementation of new interior schemes and coordination of substantial mechanical and electrical upgrades. Considerate fabric alterations and reuse of underutilised back of house areas has increased guestroom numbers and flexibility with Gleneagles. The new suites reflect the rich history of Gleneagles while meeting the expectations of a five star offering.

Architecturally, a key challenge involved analysing the history and evolution of the existing spaces from archive information to identify and protect the significant elements of the original built fabric and to secure the Local Authority's permission to remove modern features which were detrimental to the listed building.

Works were undertaken on a progressive and phased approach to ensure the remainder of the Hotel was fully operational at all times with minimal impact on the guest experience. Critical to this process was considering guest flow and communication of proposals.
PROJECT: Gleneagles
LOCATION: Auchterarder, Perthshire
CLIENT: Gleneagles Hotel
ARCHITECT: 3DReid
STRUCTURAL ENGINEER: Goodson Associates / Robertson Eadie
SERVICES ENGINEER: RSP / Atelier Ten
INTERIOR DESIGNER: Ennismore Design Studio / David Collins Studio / Goddard Littlefair / Lucid Interiors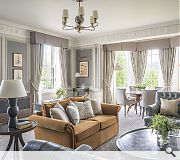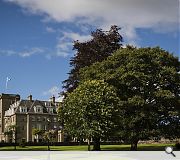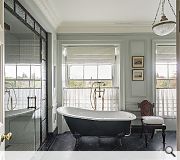 Suppliers:
Main Contractor: Thomas Johnstone Ltd / Hugh Stirling Ltd / Thompsons Ltd
Back to Retail/Commercial/Industrial