Equine Diagnostic, Surgical & Critical Care Unit
The design for the new Equine Diagnostic, Surgical and Critical Care Unit has a distinctive form, with the strong angular roofline creating a modern interpretation of a traditional barn. The new building, through its striking external form and central location within the south section of the new campus masterplan, acts as a link between the agricultural Large Animal Campus and the more civic research facilities at the University of Edinburgh Easter Bush Campus.
The external palette of finishes is based on the use of traditional agricultural materials and includes profiled sheet metal cladding and timber panels. The split form of the roof reflects the separate internal organisation of the building: the smaller part houses a diagnostic unit whilst the larger element is the main surgical suite component. The two functions are connected by the central circulation zone that is a double-height space, which provides a main arrival area as well as a physical connection between the new facility and the other areas of the Equine Hospital.
PROJECT: Equine Diagnostic, Surgical & Critical Care Unit
LOCATION: Edinburgh
CLIENT: The University of Edinburgh
ARCHITECT: Sheppard Robson
STRUCTURAL ENGINEER: Baker Hicks
QUANTITY SURVEYOR: Currie & Brown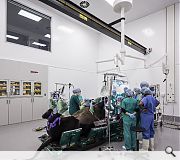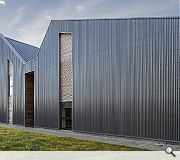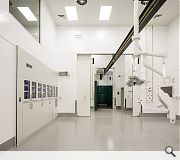 Suppliers:
Main Contractor: McLaughlin & Harvey
Photographer: Keith Hunter
Back to Health