Garth Wood House
Garth Wood House is located on the boundary of forest and steep embankment, overlooking the confluence of the Rivers Lyon and Tay, in Highland Perthshire.
The pavilion style house has been designed with the living quarters to the upper storey and a large covered balcony to two sides, sitting above service accommodation at the ground floor, to maximise the site's outstanding 1,000ft views. The central core is a library, to house the clients' 10,000 books, with wide stair leading to the upper floors, from the entrance level.
It is a framed house, covered in blackened timber designed to set the house in the context of the larch and spruce forest behind. On approaching the house, the entrance way is highlighted to lead through from the undergrowth of the forest and out from the canopy of trees. The full height windows reach out over the surrounding dramatic scenery.
The result is a robust, ergonomic and sustainable design within influences from Nordic architecture of the clients' heritage. It is realised with a mixture of larch, hazel screens and wood mizered from their own forest. Heating is via a ground source heat pump and underfloor heating. The interior is constructed around simple shapes and clerestory windows flooding the interior with light. The wide, open tread staircase allows for the central library core to house double height floor to ceiling shelving and lead off to the kitchen, master bedroom and other living spaces and take in the multiple viewpoints surrounding the home.
PROJECT: Garth Wood House
LOCATION: Keltneyburn, Aberfeldy
CLIENT: Hening Hoeber
ARCHITECT: Fearn Macpherson Chartered Architects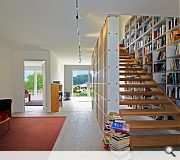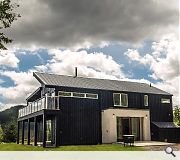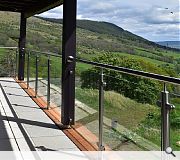 Suppliers:
Main Contractor: Blairish Restorations
Back to Housing