Beinn Dubh View
Situated within the busy village of Luss, the new development creates a sense of place and privacy via the new common courtyard, off of which each home is accessed. The courtyard is akin to traditional rural steadings, with front gardens open to the central courtyard, each with fruit trees and low level beech hedging bounding turfed gardens. The separation from the busy tourist village provides a safe amenity for children's play, or for older residents to sit out and enjoy the southern aspect gardens.

The local primary school were involved in the naming of the new development – named Beinn Dubh View (Beinn Dubhchraig is the horseshoe ridge encircling Glen Striddle; eastern arm rises directly from the village).

Through consultation with the local authority, and community council it was apparent that there was a lack of 3 bedroom, family friendly properties in Luss – which was also negatively impacting the pupil numbers at the local school. The provision of wheelchair accessible accommodation was also lacking due to the nature and scale of the existing houses.

The new development has set a benchmark for high quality new housing, boosted the numbers of young families living in the area; and provided much needed accessible accommodation for an individual who otherwise may have had to leave Luss in order to find a suitable home.
PROJECT: Beinn Dubh View
LOCATION: Luss Village
CLIENT: Link Group
ARCHITECT: Anderson Bell Christie
STRUCTURAL ENGINEER: Scott Bennett Associates
QUANTITY SURVEYOR: Brown + Wallace LLP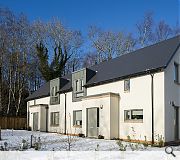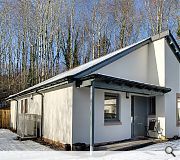 Suppliers:
Main Contractor: The J R Group
Photographer: Blink Imaging
Back to Housing