East Kilbride Leisure Hub
East Kilbride is one of four major settlements in South Lanarkshire and is the first 'New Town' in Scotland. The East Kilbride Leisure Hub is the only facility of its kind in South Lanarkshire and as such hasa wide catchment attracting over 14,000,000 visitors per annum.

The Olympia Centre, in the heart of the new town, had a growing number of vacant units and this coupled with the increased
competition from neighbouring developments led to the centre requiring to improve its offer and create a stronger destination
combining leisure and catering.

The client requested that the design and development of the works should be carried out in a short timescale, over fifteen months completing in December 2016.

Project Objectives
To stimulate development of the site.
To create a destination that complies with the masterplan.
Encourage increased pedestrian flow with the introduction of high quality catering offers and a redeveloped ice rink.
Create an environment which achieves the temperatures necessary for catering within the mall and adjacent to the
ice rink.
Integrate the leisure element to include a new 'Aerial Adventure' and climbing wall.
To generate income from previously vacant units.
Maintain continuity of trade and public access.
PROJECT: East Kilbride Leisure Hub
LOCATION: Olympia Centre
CLIENT: Orion IV European 16 SARL
ARCHITECT: BDP
STRUCTURAL ENGINEER: Dewar Asscoaites
SERVICES ENGINEER: DSSR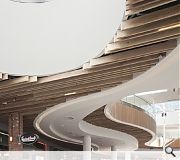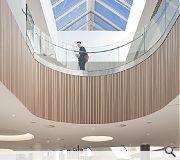 Suppliers:
Main Contractor: Interserve Construction Limited
Photographer: David Barbour
Back to Retail/Commercial/Industrial