Hawkhead Centre
The Hawkhead Centre is a new activity and support centre for the charity Scottish War Blinded, who provide free support to ex-service men and women who have lost their sight during or after military service. Scottish War Blinded is a sister charity to Royal Blind, Scotland's largest visual impairment organisation. The Hawkhead Centre has been delivered in tandem with a new Royal Blind 54-room care home on the same site. The Hawkhead Centre is Scottish War Blinded's flagship facility on the west side of Scotland, building upon the success of their existing facility, the Linburn Centre, in the east.

The centre provides a wide range of facilities to aid the charity in their work, including a sports hall, gymnasium, art room, wood workshop, kitchen skills room, IT skills room and a large dining area which forms the social hub and heart of the building. A significant part of the centre is the connection between the inside of the building and the new sensory garden to which it opens out, complete with planting areas, pergola, potting shed and greenhouse, encircled by existing mature oak, larch, pine and maple trees.

The design of the centre is inspired by the placename 'Hawkhead', the area of Paisley in which it is situated. This led to the key design move of envisaging the roof of the centre like a sweeping wing which shelters all of the activity and people below. This roof, which is lined in timber, has five large triangular rooflights set within it which provide light and interest to the central dining and gathering area. Every key room in the building has a visual connection to this sweeping roof and to the central gathering area, engendering a feeling of community and connection to a wider whole, even when one is in a smaller, more focussed room.

The Hawkhead Centre, delivered in tandem with the new care home, has been received warmly by those who are using it now that the centre has opened. It is considered a success by the client, design team, project team and contractor, and is being well received by those for whom it was built - the visually impaired members of Scottish War Blinded. The project is testament to what can be achieved when engaged, interested and committed professionals come together to brief, design and deliver a building in a spirit of trust, respect and mutual co-operation, for an organisation which is doing essential work to improve people's lives in this part of Scotland and beyond.
PROJECT: Hawkhead Centre
LOCATION: Paisley
CLIENT: Scottish War Blinded
ARCHITECT: Page\Park
STRUCTURAL ENGINEER: Jacobs
SERVICES ENGINEER: Atelier Ten
QUANTITY SURVEYOR: NBM
LANDSCAPE ARCHITECT: Ian White Associates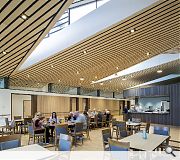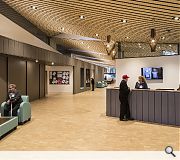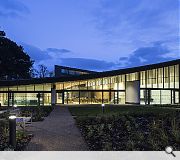 Suppliers:
Main Contractor: CCG
Photographer: Keith Hunter
Back to Health