Hamilton Road
We were approached by clients in Gullane, East Lothian to design two extensions. One to the rear of the house with a new garden room / kitchen and one to the side to provide two additional bedrooms, a utility room and a shower room. Plus the complete reconfiguration of the ground floor of the existing house to create an open plan hallway, master bedroom and en-suite.

The extension at the rear extends out from the existing kitchen along the full length of boundary fence to create a space that turns to face the garden and the orientation of the sun. We also took down the wall between the existing kitchen and living room so that the new open living space extends from the front of the existing house right through to the new extension and the garden. This space is broken down by a large rooflight, a split level and a desk / shelf unit but also tied together with a long storage / feature wall that runs from a TV unit in the living space through storage for the kitchen to the back drop for a new wood burning stove, while also framing the entrance from the hall.

Smooth white render is used to frame the main elevation as a nod to the existing house, with timber cladding and large sliding doors set back under a timber clad overhang.

The side extension was predominately designed to match the existing house, so that from the road there is no indication that the house has been extended. The existing roof has been fully re-tiled along with the neighbours so that the property from the front looks original. There is a small suggestion of what's hidden in the garden with a small section of timber cladding positioned next to the side window before revealing the full extent of the works as you walk down the side of the property.

Internally, the property was fully redecorated with new floor finishes throughout to tie the new and old together and a new reconfigured stair up to the first floor extension and existing attic conversion.
PROJECT: Hamilton Road
LOCATION: Gullane, East Lothian
CLIENT: Ian and Pippa McFarland
ARCHITECT: Craig Amy
STRUCTURAL ENGINEER: SDC Ltd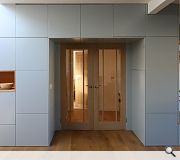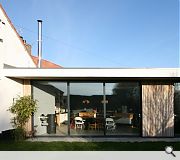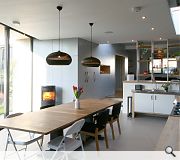 Suppliers:
Main Contractor: PJM Joinery & Building Ltd
Back to Housing