Berwickshire
Berwickshire Housing Association does not build a great deal of new stock, but when it does get involved in new build housing, it likes to innovate. This simple house form with a snug entrance, a sunspace and energy saving functions has been designed to develop on past work in sustainable technology and detailing.
The semi-detached block forms the last in a line of local authority semis built in the post-war period. The new block reflects the basic form of the existing layout, a simple form set in a square of garden, but provides a more open façade to the south to catch sunlight and make the most of the views.
The energy conservation methods include a whole house ventilation and water heating system and a small glazed sunspace. Wind turbines were also proposed, but have yet to be installed. Well insulated breathable timber frame walls are clad in cement fibre tiles and larch timber boards, finished with a Sikkens stain that gives the timber a rich weathered appearance. The houses have a distinct character as a result of the flush detailing of the eaves, verges and down pipes, a decision that was made for architectural reasons, but that also allowed the contractor to build using a lightweight frame and cladding.

PROJECT: Berwickshire
LOCATION: Swinton
CLIENT: Berwickshire Housing Association
ARCHITECT: Oliver Chapman Architects
STRUCTURAL ENGINEER: McKay and Partners
QUANTITY SURVEYOR: DI Burchell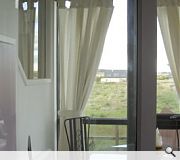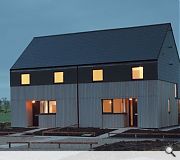 Suppliers:
Main Contractor: MT Richardson
Back to Housing