Anniston Coach House
Anniston Coach House is located near Inverkeilor, and the project was for the refurbishment of an existing Coach House into a contemporary home.

The building was formerly part of an overall steading complex which was subdivided and sold off as a separate entity with extensive grounds to the south. The Voigt Partnership were involved with the project previously back in 1991 where the existing steading structure was first converted into a dwelling.

In early 2013 the Voigt Partnership were appointed to take a fresh approach to the building to create a 4 bedroom house with contemporary finishes to bring the building in line with modern living standards. Internally the finishes are very dated, and it was the client's intention to completely overhaul the interior.

The first major design move was to divide the long thin shaped building into 2 wings: The west wing became an open plan living space with new kitchen, dining area and large lounge; whilst the east wing became the bedroom accommodation, with 4no. ensuite bedrooms all accessed off a circulation space to the north.

In the main open plan space high quality finishes were used for the kitchen, whilst the timber flooring and new flat ceiling helped to unify the space. The addition of four large rooflights helped to floor natural light into the space.

Any alterations to the external fabric were kept to a minimum. The exterior of the building was completely cleaned up, whilst replacing the existing windows with modern efficient Alu clad windows. At the front the existing door and window were replaced with a new door and sidelights. The existing barn-style garage door was replaced with glazing above into bedroom 4.

A run down lean to outbuilding attached to the main structure was refurbished to provide a new utility/wc room with flat room accessed off the kitchen/dining, whilst a new staircase led up to a separate upper floor snug space. Both new roof elements were tied into the existing roof, finished in natural slates to match, to blend in seamlessly with the existing roof.

The house is completed to a very high spec inside with quality materials and finishes throughout the house. The result is a sensitive contemporary alteration to a historic coach house, creating a stunning modern home.


PROJECT: Anniston Coach House
LOCATION: Inverkeilor, Angus
CLIENT: Private
ARCHITECT: The Voigt Partnership
STRUCTURAL ENGINEER: McKinney Nicolson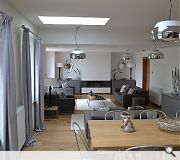 Back to Interiors and exhibitions