Student Loans Company
Graven has transformed a previously uninspiring industrial unit into a state-of-the-art Data Centre and dynamic workplace environment for SLC designed to promote innovation and adopting new ways of flexible working.

The new Data Centre houses the organisation's key infrastructure and services supporting their staff, over 7 million customers and a £90bn loan book.

The principal challenge was to reuse the existing industrial building housing an out-of-date data processing and in-house printing and mail distribution facility to create a low environmental impact, diverse, robust and future proofed Data Centre with resilience.

It was important to create a high quality environment to achieve a fully integrated project balancing the ICT requirements and core business requirements where the most critical processes of SLC are run.

All this was achieved, with all existing services staying live throughout the build and transition period ensuring no loss of data services to SLC, its customers, and Universities throughout the UK.

The approach was to locate bench style desking towards the external elevations and to create a functional central zone to accommodate key circulation and a variety of meeting spaces while internal breakout booths and touchdown areas offer social and more informal spaces to work.

The central hub structures and their roof profiles create a playful and striking vista right through the heart of the space leading the eye deep into the main workspaces and the central walkway.

The industrial setting and mix of quality sometimes surprising, materials along with colour and texture is a fitting evolution from SLC's Memphis Building in Darlington, originally built as the landmark Patons and Baldwin thread factory, also redesigned by Graven. Finishes were kept minimal with strong colour in the central walkway and booth settings.

Graven also developed SLC's environmental branding and wayfinding strategy throughout the building. Clear messaging, bespoke branded signage and large-scale environmental graphics within the meeting rooms act a reminder of the end user. The manifestations incorporating the SLC branding to the external glazing provide a layer of privacy and security as well as adding pattern and a play of light.
PROJECT: Student Loans Company
LOCATION: Hillington
CLIENT: Student Loans Company
STRUCTURAL ENGINEER: Harley Haddow
SERVICES ENGINEER: Harley Haddow
QUANTITY SURVEYOR: Axiom Project Services Ltd
INTERIOR DESIGNER: Graven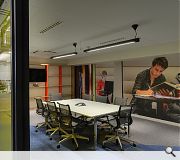 Suppliers:
Main Contractor: Emtec Group
Photographer: Renzo Mazzolini Photography
Back to Interiors and exhibitions