Charlotte Chapel
Lee Boyd were successful in a limited competition to provide architectural services for Charlotte Chapel who have moved to the vacant St George's West Church in the centre of Edinburgh.

St George's West (A Listed) is an unusual Baroque Revival 19th Century church and is significantly larger than their former building. Although the building required essential refurbishment and reorganisation, the opportunities for flexibility and multiple use gave Charlotte Chapel the potential to grow further and expand their mission.

The project involved major reorganisation of the lower ground to create flexible multi-purpose rooms and reworking of the sanctuary to increase its flexibility and potential for different types of performance (includes removal of pews and redesign of stage). A significant part of the final proposals was the renewal of the building's services and the careful integration of this with the new and existing layouts.

PROJECT: Charlotte Chapel
LOCATION: Edinburgh
ARCHITECT: Lee Boyd
STRUCTURAL ENGINEER: David Narro Associates
SERVICES ENGINEER: Max Fordham
QUANTITY SURVEYOR: M+B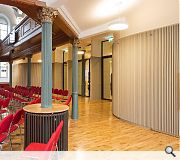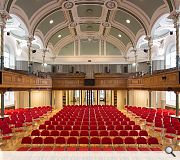 Suppliers:
Main Contractor: Elmwood
Photographer: Keith Hunter
Back to Historic Buildings & Conservation