Balmwell Terrace
The development at Balmwell Terrace has delivered 43 new affordable housing units for Link Housing Association, comprising
of a mix of 2-bed terraced family homes and 1 or 2 bedroom flats on the site of a former council office building.

The original office building occupied the centre of the site, with the road network wrapping around it on 3 sides. Green space was at a premium as a result of the access requirements and building orientation. It filled the left over spaces between roads and building;
creating negative rather than positive spaces, which were unused and weakly defined.

The proposed solution was to form a linear block fronting on to Balmwell Terrace, re-instating and defining a street edge. This flatted block steps up in height from east to west, taking account of the low level housing to the east and creating a taller focal point to the
west. The taller west corner has large feature windows facing out towards Howdenhall Road, marking the main pedestrian entrance into the site.

This pedestrian route leads on to the existing public footpath that runs along the boundary of the existing sheltered housing. It also leads in to the central, shared surface courtyard of the new development. Two storey terraced housing runs along the west of the site, with back gardens set off the public footpath, so that they receive south and west sunlight.

These houses match the scale of the sheltered housing and help to tie the two sites together, encouraging pedestrian movement between the two.

The centre of the site is an open landscaped amenity space sheltered from the main road. A shared surface for parking,
footways and the main access road in the site promotes a flexible use of the space for the occupants.

The form of the flats and houses are kept as deliberately simple as possible with richness imparted through more intricate detailing at the main entrances and a strong repeating pattern of windows and openings.

The development is unified through the use of one dominant material and common detailing. The scale and texture of the brick gives the whole development a human scale, while the colour variation animates and gives richness to the otherwise simple forms.
The detailing of openings, windows and the interface of materials is also consistent across the development. Folded metal canopies, and recessed angled walls with honeycomb brickwork define the main entrances from Balmwell Terrace, while the second floor level is partially set back and clad in a lighter, silver-bronze coloured high pressure laminate cladding system.

PROJECT: Balmwell Terrace
LOCATION: Howdenhall Road, Edinburgh
CLIENT: Link Housing Association
ARCHITECT: Ian Springford Architects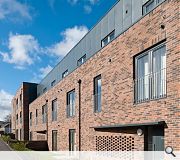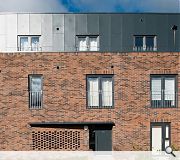 Suppliers:
Main Contractor: Hart Builders
Back to Housing