Braehouse
In an exceptionally sensitive context; a World Heritage zone, the Old and New Town Conservation Areas, and adjacent to Holyrood Palace, The Scottish Parliament, Arthur's Seat and Salisbury Crags; it was our hope to create a building which sat quietly, elegantly and confidently amongst these prestigious neighbours.

The building was conceived as a simple perimeter and courtyard development as is the tradition of the quintessential Edinburgh tenement typology. The desire was to repair, through reintroduction, the missing urban grain of Abbeymount, and through the use of considered proportions and form, in mass and fenestration, create a streetscape which reflected many qualities of historic Edinburgh streetscapes that are well loved by residents and visitors. Tall, slender window openings, a consistent order and rhythm to the fenestration and façade; and a scale which while enclosing the street retained the fleeting views toward Arthurs Seat and Salisbury Crags that are known to local residents.

The primary entrance is located on Abbeyhill, as is the main entrance to the secure courtyard which is split into three sections; the first section - a landscaped podium two levels up – overlooks the other two which are both at ground level. The courtyard creates a protected, secluded environment, both visually and climatically which is discreetly overlooked by both student resident rooms and
staff/office areas.

On Abbeyhill the building has been sub-divided into an arrangement of tall, slender frontages – reminiscent of the character and style of the Old Town, and through the roofscape the 'hit-and-miss' aesthetic of the front-facing chimney breasts found on Royal Park Terrace has been extended in a contemporary idiom.
PROJECT: Braehouse
LOCATION: Edinburgh
CLIENT: The Student Housing Company
ARCHITECT: Manson Architects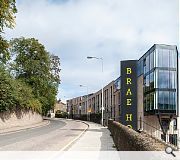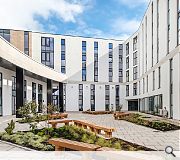 Suppliers:
Main Contractor: Watkin Jones
Back to Housing