Blakeburn
Our project at Blakeburn cottage involved the complete overhaul a nondescript mid-20th Century dwelling in order to create a unique and elegant home in a fantastic rural location near Melrose, Roxburghshire.

The footprint was extended to the east and west of the existing building, with the entire building then over clad in scorched larch.
Given the prominent position of the existing building any new works had to be articulated to minimise the visual impact of creating a much larger building on the site.

We achieved this by referencing the simple gable form of the existing building, and by utilising a restrained material pallete that was sympathetic to the site context. The result is a refined form with an external appearance that allows the building to blend into the woods to the east of the site.

A full internal strip out allowed us to create flexible accommodation on one level featuring double height space in all rooms that fully engages the roof pitch void. Making use of the full volume of a room is successful throughout the building, but we are particularly pleased with the results in the master bathroom. Rooflights feature in most rooms, but here, two large rooflights sit directly above the bath creating a unique opportunity for cloud watching and stargazing.

The building is highly insulated with underfloor heating and hot water provided by an air source heat pump, ensuring long term running costs are minimized ( and the water in the stargazing bath stays warm).

The client (a writer) works from home and the brief prioritised the quality and relationships between internal spaces. The internal arrangement was therefore conceived as a series of cellular spaces particular to her activities during the day. All rooms are linked by a corridor (that also functions as a gallery) that runs the length of the north elevation.

To the east end is the writer's studio space, where multiple picture windows frame different views to the morning light filtering through the woods. This space is also accessible directly from the master bedroom (and bathroom) which sits between the studio and the large living room.

At the west end of the building, capturing late afternoon and evening sun is the kitchen and dining space. As in all principal rooms this also features large windows to allow key views to the surrounding countryside together with direct access to the south facing terrace and orchard beyond.

PROJECT: Blakeburn
LOCATION: Near Melrose, Roxburghshire
CLIENT: Anna Karczewska
ARCHITECT: A449
STRUCTURAL ENGINEER: SDC
LANDSCAPE ARCHITECT: Rachel Smith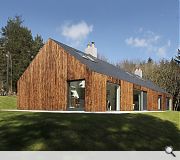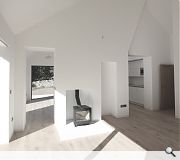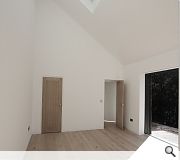 Suppliers:
Main Contractor: Ainslie Contracting LTD
Back to Housing