It's Bigger on the Inside
This 6.8m2 'glass box' extension and remodelling of the ground floor rear rooms allows the new kitchen and dining spaces of this Category B listed early Victorian townhouse to spill out into its small, enclosed, south facing garden.

Silversmith, William Kirk, lived in this house for 50 years with little updating of the fabric throughout that time. The room that is now the kitchen was his workshop where he produced his beautifully crafted, modernist silverware. His work has been commissioned by an astonishing list of individuals including Her Majesty the Queen.

The remodelling of the rear rooms and modest extension is part of an overall refurbishment of the whole house: updating the fabric to reflect modern energy conservation standards and servicing, repairing and renewing the external fabric and restoring historic plasterwork and joinery.

Our aim was to develop a minimal, highly glazed and scrupulously detailed addition that very lightly brushes against the historic fabric of the house. Despite being small, the effect that the extension has on forming the living spaces, both internal and external, is large.

In developing the original 2 storey service outshot, we re-introduced, in contemporary form, the 'back' stairs that would have linked the staff areas with the upper floors of the house. The new cantilevered stair, below a frameless 2.7 x 1.5m triple glazed rooflight, links the kitchen to the master bedroom via a glass bridge which also gives access to a small terrace where the final rays of evening sunshine can be enjoyed when the garden falls into shadow. The glass bridge maximises light reaching the dining space below.

The entirely frameless glazing is only interrupted by a near coplanar band of stainless steel at the ceiling zone and a sophisticated, Swiss made, 3m tall by 1.8m wide triple glazed sliding leaf weighing a third of a tonne, to give access to the garden. The whole structure is supported on a single, slender, stainless steel circular column in-bound of the glass.

Every junction between new and old is considered in careful detail to reduce it to its absolute minimum allowing the original fabric to sustain its historical continuum yet evoke the tension between 19th century craftsmanship and 21st century technology.

Designing the landscape treatment also allowed the inside to integrate with the outside. The new limestone flagstones continue beyond the threshold to a morning terrace and the extension terminates at the reflecting pool with its stepping stone access to the remainder of the garden.
PROJECT: It's Bigger on the Inside
LOCATION: 16 East Claremont Street, Edinburgh
ARCHITECT: David Blaikie Architects
STRUCTURAL ENGINEER: David Narro Associates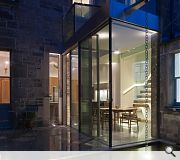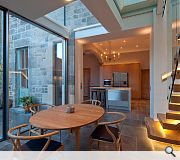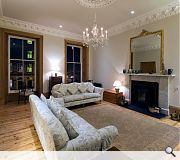 Suppliers:
Main Contractor: Attadale Construction
Photographer: Paul Zanre
Back to Interiors and exhibitions