Forsinard Lookout Tower
The Forsinard Lookout Tower was commissioned by The Peatlands Partnership ­ which includes The RSPB, Scottish Natural Heritage, The Forestry Commission (Scotland) and Highland Council ­ to provide visitors to Sutherland elevated views across the Dubh Lochan peat bogs pools and the Flows landscape beyond, and to assist with introducing the concepts of conserving peatland habitats to mitigate climate change. The structure also provides a destination for star gazing given its location within an area of Dark
Skies.

A particular special feature of blanket bogs is the pool systems, which can create impressive pattered areas when seen from above. This is one of the classic views of the peatlands, with which the general public may be familiar, but which is rarely accessible in the Flow Country. A key purpose of this structure therefore is to enable visitors to experience a striking birds­eye view of the peat bog pools, whilst providing elevated views across the expansive peatlands landscape.

The Lookout Tower sits on the edge of a bog pool system forming part of the Dubh Lochan Trail through the Flows National Nature Reserve. The exact location was carefully chosen with regard to its impact on the landscape; how it would sit within the pattern of bog pools; how it would be viewed from different angles and how the optimum viewing height for the structure would appear in the wider landscape. As a single organic form clad in locally­ sourced timber, the design concept is simple in providing a blank elevation to the public road and opening up to provide views to the west focusing visitors attention across the pools and the natural landscape beyond.

In order to minimise disruption to the peat, the tower is built off slender hollow piles driven to a solid base around 4m below the surface of the peat bog. High quality, robust and durable materials were used throughout: including untreated Scottish Larch supplied by the Forestry Commission and used as hit & miss battens to clad the timber and steel structure, both inside & out; locally­ sourced Caithness stone for the ground floor and non­slip Scottish Larch boarding for the upper viewing deck. All the main materials were delivered to site using a helicopter to minimise the impact of large machines on the bog surface.
PROJECT: Forsinard Lookout Tower
LOCATION: Dubh Lochan
CLIENT: The Peatlands Partnership
ARCHITECT: Icosis Architects
STRUCTURAL ENGINEER: David Narro Associates
QUANTITY SURVEYOR: Armour & Partners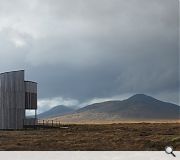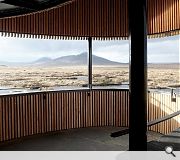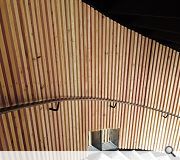 Suppliers:
Main Contractor: O'Brien Construction Ltd
Photographer: Photography by Maciej Winiarczyk, Sjoerd Tel
Back to Other