Adamson Bar
Located in the heart of St Andrews, Oberlanders designed and completed this refurbishment of a former Post Office building,
The original Post Office had been used for a number of purposes over the years and fallen into a state of disrepair.

The brief from the client was to review and assess the eligibility of the existing space to create a new champagne and cocktail bar as an extension to the adjacent, highly renowned and multi-award winning, Adamson Restaurant.

The project is accessed through a small close off the main road, visitors approach through a narrow ginnel which guides them under a canopy of lights towards the newly designed timber and glass entrance. This constrained entrance sequences then terminates explosively into the double height, top lit bar.

The main bar area was created by removing a dilapidated stair and various partitions to open up the space. The original semi-industrial quality of the old sorting office was respected by exposing and refurbishing the original steel roof trusses, roof lights and basic installation of ventilation ductwork. This is then juxtaposed with new timber panelling, abstract wallpaper and high quality fittings throughout.

The natural division of the existing building meant that with careful planning we were able to incorporate the client's requirements for a kitchen prep area and extensive back of bar area for storage and glass wash facilities.


PROJECT: Adamson Bar
LOCATION: 127 South Street, St Andrews
ARCHITECT: Oberlanders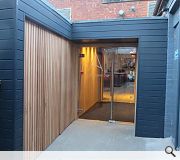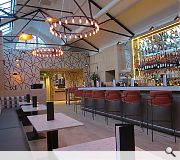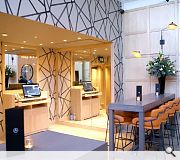 Suppliers:
Main Contractor: Bentley's Shopfitting Ltd
Back to Interiors and exhibitions