53-57 Queen Street
The development located on Queen Street, at the heart of Edinburgh's Newtown, one of the finest and best preserved examples of Urban Planning in Britain, includes a 7 bay pair of former Classical houses with flats above, most recently the buildings were occupied as one complete office. This project has been converted from these Grade A listed properties into sixteen luxury 1, 2 and 4 bedroom apartments by substantial remodelling and intervention. New mezzanine levels in Nos 53 and 54 increase the floor area and bedroom options whilst elsewhere it has been openings and reconnections and removal of unsympathetic interventions that have made the real architectural differences. Also, the top storey flats afford uninterrupted views over Queen Street Gardens towards the Firth of Forth from the main living areas and master bedrooms.

Whilst an exterior remains unchanged from the original Georgian scheme, the buildings have been altered internally over the years, particularly in the mid 1980s. At the centre of the building at No 57, an unattractive lift core has been removed to allow the subdivision of the properties back to an arrangement more in keeping with their c.1790 original designs of lower ground floors single storey 2 bed basement flats, with the ground and first floor becoming one duplex apartment.

The existing features are plentiful in this listed property and have been carefully restored or reworked along with an installation of high quality contemporary finishes and fittings to form outstanding and comfortable apartments. The removal of unsympathetic extensions & infills at the rear of the property allow for contemporary new courtyards that enhance the amenity of the lower ground floor flats and bridges have been added to ground floors flats to provide access to the rear gardens. Perhaps one of the finest attributes to this city centre living for families and professionals is the potential access to 5 acres of private gardens directly opposite in 'Queen Street Gardens'.
PROJECT: 53-57 Queen Street
LOCATION: Edinburgh
CLIENT: Ashford Property Group
ARCHITECT: Morgan McDonnell Architecture Ltd
STRUCTURAL ENGINEER: Quattro Consult
SERVICES ENGINEER: MLM
QUANTITY SURVEYOR: Chandler KBS
INTERIOR DESIGNER: Morgan McDonnell Architecture Ltd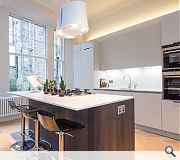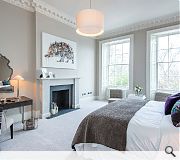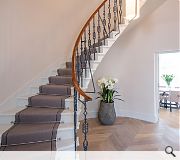 Suppliers:
Main Contractor: PJ Green Building & Joinery
Back to Interiors and exhibitions