West Burn Lane
West Burn Lane is located in a conservation area in the historic centre of St Andrews and consists of 6no four bed houses and 8no two & three bed apartments.

The buildings are organised as discrete volumes which address a series of public and private urban courtyards. They mediate between the tight-knit medieval urban grain and the scale of the surrounding university buildings and church hall, increasing in scale towards the south.

Taking cues from the historic rigg pattern of St Andrews, the buildings are tiered as they move down the lane; clear pends are maintained between which give sight to the sky and vegetation beyond and pick up the rhythm of doorways and thresholds in the historic stone walls of the Riggs.

By alternating between two main house types within the narrow confines of the lane, the broad-fronted but narrow-depth and the narrow-fronted but deep plan, we were able to provide secluded private garden spaces between dwellings that have aspect to the south-east.

At the southern end of the site where the lane opens up there is a larger scale building in keeping with the grander and more spacious context, where the apartments take advantage of the panoramic views to the south.

Located between these elements are two maisonette blocks. These are set back to create a new piece of public realm around a mature tree, a courtyard offering amenity space and off-street parking but with enough room to the rear to allow for small courtyard gardens.

There are seven house types within these three broad typologies. From north to south these are:

Town House Type 1: 3 storey, four-bedroom, narrow street-fronted and deep plan townhouse with a dedicated single-car garage and single car port at grade, a rear garden to the east and a roof terrace on the third floor.

Town House Type 2: 3 storey, four-bedroom, wide street-fronted and narrow depth townhouse with a dedicated 2-car garage at grade and a rear garden to the east.

Maisonettes: 3 storey building with one three-bedroom maisonette at Level 0 & 1 with private garden to rear and one two-bedroom upper maisonette at Level 1 & 2 with a private terrace.

Apartments: 4 storey apartment building consisting of a unit per storey. At Level 0 there is a two-bed apartment with its own separate entrance, accessed from Queen's Terrace, via a small private garden facing south. Apartments on Level 1, 2 and 3 are accessed via a communal stair entered via Westburn Lane. Level 1 and Level 2 both have three-bedroom apartments whilst the third floor is for a two-bedroom penthouse apartment with large outdoor terrace facing south.

A total number of 14 units was achieved on-site, which exceeded the requirements set in the challenging brief from the client. Sutherland Hussey Harris were selected through an invited competition organised by developer Eastacre Investments.
PROJECT: West Burn Lane
CLIENT: Eastacre Investments
ARCHITECT: Sutherland Hussey Architects
STRUCTURAL ENGINEER: Morgan Associates
SERVICES ENGINEER: The Keenan Consultancy
QUANTITY SURVEYOR: Hardies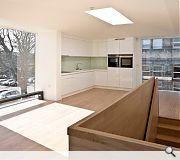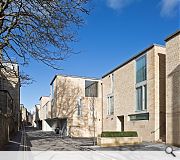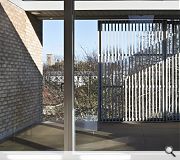 Suppliers:
Main Contractor: Ogilvie Construction
Back to Housing