Bridgegate Public Realm
Austin-Smith:Lord's competition-winning design has completely rejuvenated the historic heart of this former New Town, with natural stone public realm, artworks and streetscape improvements being part of a wider £10m regeneration programme by Irvine Bay Regeneration Company and North Ayrshire Council.

The project features the 9m high Trinity Mirror sculpture that reflects the stunning neo-Gothic Trinity Church and reveals inscriptions on an anamorphic projection around its base. This artwork, coupled with a timeline, reveal aspects of the town's long, interesting history and its identity, which were developed in discussion with the townsfolk.

Austin-Smith:Lord worked closely with artists WAVE and lighting specialists dpa to incorporate public art and feature lighting into the redesign of Bridgegate. Former Trinity Church bells, landform artworks and programmed feature lighting further enrich the experience and setting of the Bridgegate.

The project has delivered a great town centre environment which has provided a visible benefit to the town centre. It has created very positive prospects for the future. Following the completion of the Bridgegate works, which is the key public, pedestrian space within the town centre, footfall has seen a steady increase and now stands at on average 15% above previous levels. The number of vacant retail units has reduced by 50% and overall activity within the area is on the increase.The delivery of the project also provided access to jobs, training and learning opportunities.

The works have provided an enhanced location for key civic events and activities and re-established the location as a key focal point for community and social activity both formally and informally.

PROJECT: Bridgegate Public Realm
LOCATION: Irvine
CLIENT: Irvine Bay Regeneration Company
ARCHITECT: Austin Smith Lord
STRUCTURAL ENGINEER: O'Connor Sutton Cronin
QUANTITY SURVEYOR: Neilson Partnership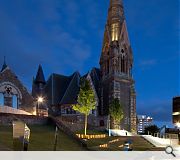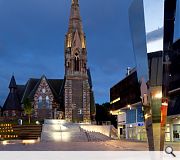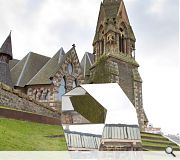 Suppliers:
Main Contractor: Land Engineering
Artist: WAVEparticle
Photographer: McAteer
Back to Infrastructure, Urban Design and Landscape