Black Rock
'Black Rock', is a bespoke, one-bedroom home with a gross ground floor area of 44m2 and first floor area of 29m2. Tightly packed into the irregular plan of the traditional fishing village, the site required a sensitive response to its surroundings and the regeneration of a brown field site.

The site is located on the shores of the North Sea, within the settlement of Johnshaven. Situated within a conservation area, the compact site once housed the remains of an old stone bothy.

The house was designed to be sympathetic and sensitive to its context. The traditional form echoes the Scottish vernacular merged with the contemporary look that clean lines and simple detailing bring. The entrance is stepped back from the front of the site in order to align itself with neighbouring buildings.

The glazed gable optimises sunlight and frames the spectacular views along the shoreline and to the sea. Inside, a double-height, open-plan living area gives the impression of space regardless of the house's compact footprint. On the first floor is a mezzanine bedroom, which is open to the living space below. The bedroom shares the views from the glazed gable and the mezzanine gives the lofty impression of space.

A services core to north, houses the bathroom, stairs and utility room. This allows space for a linear open plan kitchen/living/dining to run almost the entire length of the footprint. With the living spaces aligned alongside the site adjacent pedestrian lane, it helps to provide some security by inhabiting the path.

The materials assimilate what has traditionally been used in the local area. The reclaimed sandstone rubble walls with lime pointing to the ground floor is a nod to the ruins of the house previously on the site. White render to the upper level provides a contrast to the stone at ground level and delivers a clean, simple and contemporary finish. The roof is slated to match the slate used throughout the surrounding area. As well as integrating with the area, the materials provide robust weather protection to the house required due to it's exposed location.

Solar thermal panels installed to the south roof pitch help to provide the hot water supply. The wood burning stove in the open-plan, living space provides a large part of heating requirements for the house as a whole as it circulates in the double height space.

This sensitive, infill development within the strict constraints of its site required clever thinking to maximise space, providing a small but beautiful dwelling for a starter home.

PROJECT: Black Rock
LOCATION: Johnshaven, Aberdeenshire
CLIENT: Private
ARCHITECT: Kerry Smith Architects
STRUCTURAL ENGINEER: Cameron & Ross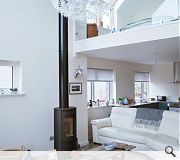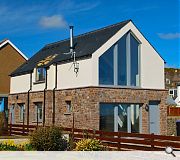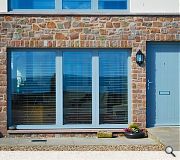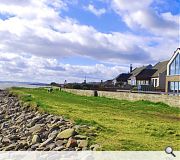 Suppliers:
Main Contractor: Fotheringham Property Developments
Back to Housing