Castlepark Primary School & Early Years Centre
Castlepark Primary School and Early Years Centre is a fully refurbished and re-modelled school in Irvine.

Rationalisation of the schools estate through North Ayrshire Council School Estate Management Plan, drove the requirement to extend Castlepark as a result of the need to close nearby John Galt Primary and redevelop a nursery also existing on the site at Castlepark. To absorb the Galt School pupils, North Ayrshire Council established that the School would need to be enlarged to accommodate a pupil role of 500 pupils.

Feasibility studies were undertaken and these studies further identified the need to form a new school entrance and school administration area, together with internal refurbishment/re-design of existing teaching areas.

The extension and remodelling of the unlisted late 20th Century single storey school building creates enlarged reconfigured and fully updated primary school; a new nursery facility, and improved flexible and open plan spaces provide an innovative learning environment and play spaces well equipped to develop learning in the context of the Curriculum for Excellence and designed to become a key resource to learning, giving pupils access to a wide range of learning contexts. The new outdoor spaces give the children frequent opportunities for spontaneous, planned and purposeful activity through physical, sensory and imaginative and investigative play in natural surroundings.

The refurbishment and remodelling has significantly improved the learning conditions at Castlepark. The works have also allowed for the right type and amount of flexible learning areas that are needed to deliver Curriculum for Excellence.

A heart space for the school has been created and this allows for a range of the different teaching activities, social encounters and learning experiences to occur during the school day. To create the heart space, the internal partitions of the original class spaces have been reconfigured to make open side learning areas. This simple move has allowed for an increase in shared area, and makes a whole space that can be timetabled to allow practical and group lessons to be delivered.

New additions to the school use sustainable materials and organic forms that create a softer profile to the school building. These parts of the design help define the buildings relationship with its play space by carefully shaped spaces for outdoor learning to take place. Careful location of entrances and classroom exits allow a good level of access to the school, and also out to the external play areas. The idea of flexible use is also incorporated within the new classroom cluster added at one of the existing building. In this cluster, a series of sliding screens allow each class room to open up in a variety of configurations; or to wholly join as required for muster teaching, storytelling, and other group learning activities. The effect of this promotes the idea of a sense of togetherness between each class group and resonates with the pastoral spirit of Castlepark School as being a caring community of learners.
PROJECT: Castlepark Primary School & Early Years Centre
LOCATION: Carron Place, Irvine
CLIENT: North Ayrshire Council
ARCHITECT: JM Architects
STRUCTURAL ENGINEER: Woolgar Hunter
SERVICES ENGINEER: The Hawthorne Boyle Partnership
QUANTITY SURVEYOR: Gardiner + Theobald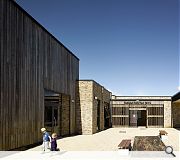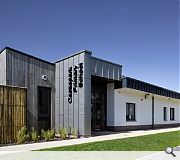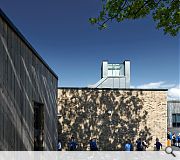 Suppliers:
Main Contractor: Morgan Sindall
Back to Education