72 St Leonard's Street
A derelict flat had an awkward, cramped layout and dark basement rooms. Following the discovery of structural and damp problems, the interior was completely stripped, giving the opportunity to see the original shell of the building which revealed an unusual geometry, original lightwells, and a mismatch of rubble stonework and brickwork.

The geometry was utilised to maximise space and light through the implementation of two distinct moves; striking a perpendicular line off the skewed gable to create a multifunctional zone of hidden storage and flexible panels, and relocating the stair to maximise light penetration into the basement.

A panelled wall provides a focal point which connects the differently configured living spaces and provides a unified language. Storage has been maximised allowing the living areas to be uncluttered and therefore contributing to the sense of light and open space.

The stair has been flipped to the opposite splayed wall, allowing it to fit alongside the slightly longer dimension, and channel light diagonally into the previously dark, basement. The use of glass balustrades ensures that the stair does not sit awkwardly in the living room, and creates a feature double height void

The basement level is unified with an underfloor heated grey resin floor. The seamless floor provides continuity in the basement and augments the fluidity of the space as there are no defined thresholds between the rooms.

Part of the adjacent common store had been commandeered in exchange for undertaking common repairs. This unused and unlit storage space has been given over to good effect for service areas conserving the light filled areas for living space. Natural light is provided from both the stair void and a glass floor inset above the sink (reminiscent of the original lightwells). The white panelled wall, which extends down from the ground floor, has been designed to function as a screen which can close to create a guest bedroom.

Despite being a modern refurbishment, the historical values of the building have been respected. The front has been repaired and the original shell is now clearly visible, with traces of the old now revealed, such as the Edinburgh Press, fireplace recesses, and brick / stonework. Alongside the original existing features, the new interventions are distinctively modern, such as the panelled wall, birch plywood stair, glass balustrades, and modern kitchen. These are all differentiated from 'the existing' through the use of materials and shadow gaps.

The flat has been reinvented into a flexible duplex apartment with a modern, light-filled, spacious interior, belying its traditional frontage within a C-listed Georgian tenement block.

PROJECT: 72 St Leonard's Street
LOCATION: Edinburgh
CLIENT: Natasha Huq & Ryan Tennyson
ARCHITECT: Natasha Huq Architect
STRUCTURAL ENGINEER: JFR Projects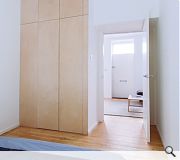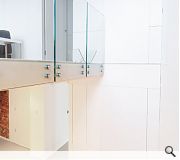 Back to Interiors and exhibitions