Laurieston Transformational Regeneration Area, Phase 1A
This development of 200 affordable homes forms the first phase of regeneration for the Laurieston area of Glasgow. Working alongside Page/Park, Elder and Cannon were asked to design 80 units, including the prominent southernmost flatted block and 2 housing terraces, offering diversity to the masterplan.

The challenge was to create a sustainable development which rationalised the eccentricities of the southern edge †responding to the railway line, the busy environment of Cumberland Street, the edge condition to the new park †and create an object building of an appropriate stature to form a gateway partnership with a future building on the southwest corner of the masterplan.

The architectural intention of the block lies in a contemporary interpretation of the traditional 4 storey Glasgow tenement where identity is derived from control of detail, scale, proportion and materiality. Its success is reliant upon the continued inclusion of the primary architectural elements, well proportioned windows, balconies, porches and appropriate quality to the primary materials of buildings and landscape.

In response to the proximity of the railway the block breaks to form 2 new entry courtyards and L-shaped legs of accommodation which enclose a larger amenity courtyard. The northeastern leg responds to the street and new public space created, accommodating maisonette homes with flats above. The southwestern leg responds to the southerly aspect, generates a landscape buffer to Cumberland Street and addresses the garden and play area to the west. The blocks contain a wide mix of flats from 1bed up to 6 bed arrangements to meet the mix requirements requested by the Housing Association, rationalising these into a unified form through well considered planning.

The courtyard terraces to the north are occupied by 2/3 storey homes arranged as linear blocks addressing shared surface courts with amenity space to the rear. They adopt a similar materiality of high quality to the main block and prioritise rigour, scale and proportion as devices to control and order the elevation.

PROJECT: Laurieston Transformational Regeneration Area, Phase 1A
LOCATION: Laurieston, Glasgow
CLIENT: New Gorbals Housing Association
ARCHITECT: Elder & Cannon and Page\Park
STRUCTURAL ENGINEER: Watermans
SERVICES ENGINEER: Watermans
QUANTITY SURVEYOR: NBM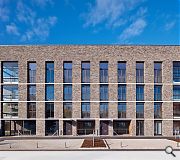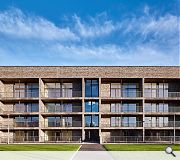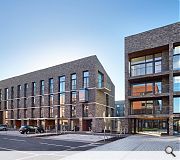 Suppliers:
Main Contractor: McTaggart Construction
Back to Housing