The Shields Centre
NHS Greater Glasgow and Clyde commissioned the Shields Centre, Health and Care Centre, in the Southside of Glasgow.
The aim of the project was to improve accessibility to the local community on two fronts: by co-locating the building with the community centre and the new Gaelic school; and improving service delivery by providing services within one building, including:

• Two GP Practices,
• Pollokshields Health Shop,
• Glasgow City Council Social Works Services,
• Health Visitors and District Nursing Teams.
The building scale takes its cue from the nearby tenements, and likewise the brick selection is contemporary and reflective of the sandstone warmth of the residential tenements. The Centre achieves a bold public presence.
Externally, as a statement within the urban landscape, the design responds on a number of levels:
• A concealed garden; acting as a buffer between the Community Centre and the building, which will be managed by the gardening community. This also provides a link to the education of healthy living by growing fruit and vegetables, a key function of Pollokshields Health Shop,
• Privacy to clinical rooms on the main frontage is afforded by the creation of a colonnade, which accentuates the building's presence; further enriched by the installation of intricate Corten steel panels within each bay by artist Alex Hamilton. Each panel takes its reference from nature, using artwork made by the local community who were asked to consider plants that were important to their lives,
• The processional piers along the frontage run into the streetscape as free standing piers, acting as a welcome towards the building, from the direction of the crossroads they provide a physical link and visual connection to the School and the Community Centre,
Internally, consideration has been given to the range of building users:
• The ground floor waiting area has a two storey void, which pierces through its height, creating visual links all around. This central core also provides flexibility for multi-use operation and facilitates security of each area,
• Within this multi-use building, sustainable properties of natural light and ventilation are key design elements, with curtain walling; internal void; and roof lights.

In conclusion the building will form part of a new overall community provision with a unified service delivery approach. It has filled an under used gap site and the exceptional design has added to the fabric of the surrounding area.

PROJECT: The Shields Centre
LOCATION: McCulloch Street, Glasgow
CLIENT: NHS Greater Glasgow and Clyde
ARCHITECT: Anderson Bell + Christie
STRUCTURAL ENGINEER: Ramage Young
SERVICES ENGINEER: Hawthorne and Boyle
QUANTITY SURVEYOR: Doig and Smith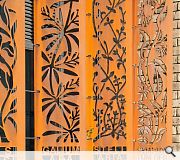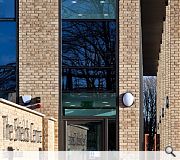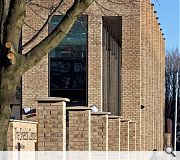 Suppliers:
Main Contractor: CBC
Photographer: Keith Hunter
Back to Health