Dumbarton Road student housing
Carson & Partners have just completed new student housing for Alumno Developments, working with Kier Construction on the corner of Mansfield Park in Dumbarton Road, Glasgow. The £8.0m building is C&P's first purpose-built student housing development in Scotland and provides 174 new rooms for Glasgow's expanding student community. The main thoroughfare of Argyle Street and Dumbarton Road, leading out from the City Centre to the university quarter in the West End, has seen much regeneration over the past few years – a process in which student accommodation continues to play a major role.

While student housing is a building type which often tends toward the mediocre, the minimal and the mundane, Dumbarton Road demonstrates that given the right design team, contractor, investment and ambition, high quality architecture can still result.

Throughout its composition, the building represents a carefully designed but unashamedly contemporary response to context. The ground floor frontage, so often disappointing in new development, extends the adjacent traditional shop fronts with appropriate scale. Over the principal floor levels, carefully selected natural stone is graced with generously proportioned openings, elegantly positioned and crisply detailed in anodised aluminium. Above the natural datum set by the eaves of the dominant Victorian tenement form, an animated roofscape is allowed to develop, responding to the wider urban landscape and outlook.



PROJECT: Dumbarton Road student housing
LOCATION: Dumbarton Road, Glasgow
CLIENT: Alumno Developments
ARCHITECT: Carson & Partners
STRUCTURAL ENGINEER: Odin Consulting
SERVICES ENGINEER: Hawthorne Boyle
QUANTITY SURVEYOR: Summers Inman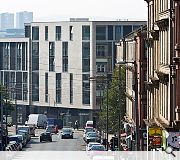 Suppliers:
Photographer: Keith Hunter
Back to Housing