Arcadia Nursery
Arcadia Nursery was created to provide early-years education for children of University staff, students and the general public; catering for up to 113 children aged from 6 weeks to five years of age, at the King's Buildings Campus. The building brings together two existing University nursery facilities, previously at George Square and Dalkeith Road, into one purpose-built facility with extensive outdoor play area.

The proposal was designed around the 'free-play' concept, which helps develop children's confidence, independence and creativity by encouraging them to choose the activities they would like to participate in, or whether they would like to be inside or outside, rather than the day being dictated to them. The layout of the nursery has been designed to facilitate this, whilst ensuring the children are safe and easily supervised. Externally each age group's playroom is clearly identifiable as a welcoming, contemporary domestic form which creates a sense of belonging and ownership for each age group. These three pavilions are then linked together by a single storey building, with large rooflight offering views up to the tree canopy above. A desire to respect the façade of the adjacent B-listed Joseph Black chemistry building, led to a more compact footprint with raised mezzanines for the children and a first floor area for offices, staff and family room.

Each of the three playrooms opens out to a covered terrace, to allow outdoor time for the children all year round, and then out into three distinct garden spaces. The first, closest to the building is the enclosed garden, a space children can freely move in and out of from their playroom, beyond this a gate leads to a more challenging, natural play area among the trees for the older children, and the journey through the trees along a raised, curving walkway is completed by reaching the meadow, with wild flowers and grasses and a willow enclosure for picnics and sports.

Along with a requirement to achieve Breeam Excellent, it was also of foremost importance that a healthy, calm environment was created for the children. A Cross-Laminated Timber (CLT) structure provided the perfect combination of creating a warm, tactile interior, whilst also using a natural, sustainable product that could structurally achieve the clear roof volumes required to ensure the mezzanines spaces were not compromised.

The nursery has been designed to be a very low-energy building, it is connecting to the central University CHP network, uses no mechanical cooling or ventilation and has highly efficient lighting and equipment installed. The specification of all materials was carefully considered, with materials being chosen that are renewable, have low embodied energy and a minimal carbon footprint. The design stage Breeam assessment achieved a high score of 82.2%, with material and pollution sections achieving a 100% score.
PROJECT: Arcadia Nursery
LOCATION: Max Born Crescent, Edinburgh
CLIENT: University of Edinburgh
ARCHITECT: Malcolm Fraser Architects
STRUCTURAL ENGINEER: AED
SERVICES ENGINEER: Harley Haddow
QUANTITY SURVEYOR: Thomson Gray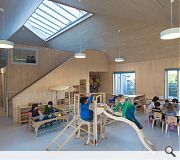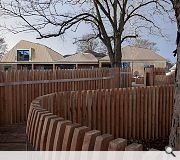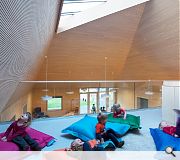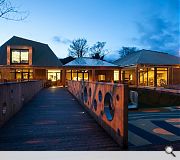 Suppliers:
Main Contractor: Balfour Beatty
Back to Education