Child & Adolscent Mental Health Unit
The Child & Adolscent Mental Health Unit at Dudhope Terrace, Dundee for NHS Tayside was recently completed with NHS Tayside and senior staff delighted with the final outcome.

The project was procured through the East Central Hub and constructed by BAM Construction.

The extent of the front elevation is a collaboration of brick and timber cladding. The brick is a dark colour in order to accentuate the lush green surroundings of the landscape. The timber cladding (Scottish Larch), once silvered, will provide a direct connection to the woodland surrounding of the historic site. These materials will extend from the elevation to the immediate adjacent landscaping of the building giving the building further connection to its surroundings and blurring the lines of contrast.

The roofs are a mixture of flat and low level mono pitched roofs with a mixture of standing seam and single membrane roof finishes. The rear of the building is anchored into the hillside, obscuring the mass of the building to the properties north of the site.

At night the building is subtle and responsive to the residential context, the trees and brise soleil offer privacy to residents and staff whilst also minimising any artificial light pollution to ensure the building doesn't become a lantern to the surrounding area.

PROJECT: Child & Adolscent Mental Health Unit
LOCATION: Dudhope Terrace, Dundee
CLIENT: NHS Tayside
ARCHITECT: Gauldie Wright & Partners
STRUCTURAL ENGINEER: Goodson Associates
SERVICES ENGINEER: FES Limited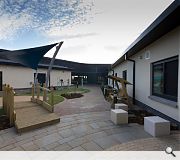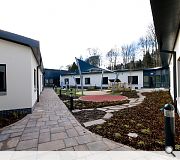 Suppliers:
Main Contractor: BAM Construction Ltd
Back to Health