Forest District Offices

Regeneration of a brown-field site to replace existing sub-standard offices and provide a modern working environment.
Brief:

Design a new Forest District office to accommodate 29 staff with future proofing for up to 45 staff in a sustainable building that exemplifies the use of home grown timber.
Sustainability was examined in the context of the site and a semi-urban environment and decided that the use of home grown timber – ideally from within 50 miles of the site was a reasonable target to both reduce the 'road miles' associated with 'normal' timber procurement and simultaneously investigate the possibilities for various species of home-grown timber. A definite attempt was made to avoid the use of timber treatments throughout the building. Attention to the natural durability of larch along with methods of protecting the wood by the use of large roof overhangs, good detailing to ensure sufficient ventilation and good drainage allowed the larch to be untreated both as cladding and sub-frame.
Design approach:
A simple linear emphasis demonstrated by the regular structure, and expressed vertical timber elements.
Construction:
The structure is expressed timber columns and truss with pre-fabricated timber wall panel construction, and JJI joist floor and roof members. The intention was to avoid concrete or steel (other than connections) above DPC level.
Materials:
Structure; Douglas fir.
Panels; JJI joists, OSB, Mineral wool insulation, plasterboard.
Cladding; untreated larch, Furfurylated Scots pine.
Roof cladding; profiled aluminium.
PROJECT: Forest District Offices
LOCATION: Tower Road, Smithon, Inverness
CLIENT: Forestry Commission Scotland
STRUCTURAL ENGINEER: W.A. Fairhurst & Partners
SERVICES ENGINEER: Pick Everard
QUANTITY SURVEYOR: Armours & Partners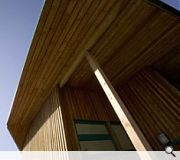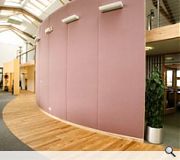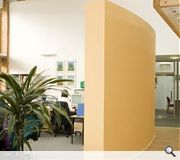 Suppliers:
Main Contractor: M.M. Miller (Inverness) Ltd
Glazing: Aberdeen Window & Door Systems
Consulting Engineer: Jeremy Gardner Associates
Flooring: Clanco
Roofing: Rigidal Systems Ltd
Heating/Insulation/Ventilation: Corrie Plumbing & Heating
Timber Cladding: Russwood
Back to Retail/Commercial/Industrial