Belleisle Golf Club
The clubhouse building is treated as a pavilion type building with three hipped slate roofs as the defining form.

This strategy creates a building which is complementary in form to the existing stables building with its hipped linear roofs but which is still identifiably modern. The treatment as three elements gives the building a smaller scale than one large roofed structure would provide allowing the stables building to remain dominant.

The three elements of the clubhouse have a staggered configuration which allows the formation of a new entrance courtyard between clubhouse and stables and an informal edge looking out over the course to the North.

The clubhouse is built with materials which are complementary to the existing stables building. The roofs will be clad in natural slate as with the other buildings on the estate. This slate will also provide the cladding material for the rear elevations of the clubhouse. This is intended to ensure a more recessive neutral tone for the clubhouse when viewed from the course.

The principal East elevation will be clad in oak boarding. This will allow a softer colour similar in tone to the sandstone walls of the stables when viewed along the main approach. The timber will weather gradually to a neutral yellow grey tone.

These natural materials are supplemented by grey metal details of windows and roof edges.

PROJECT: Belleisle Golf Club
LOCATION: Belleisle Park, Ayr
CLIENT: South Ayrshire Council
ARCHITECT: ARPL
STRUCTURAL ENGINEER: ATK Partnership
SERVICES ENGINEER: Harley Haddow
QUANTITY SURVEYOR: Robert C Brown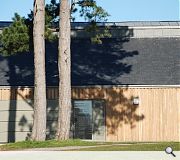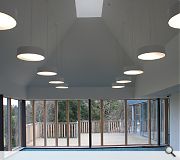 Suppliers:
Main Contractor: 3b Construction Ltd
Back to Sport and Leisure