St Andrews Links Trust
The Purpose-built Storage and Office Accommodation is within the St Andrews Links Trust estate situated on the outskirts of St Andrews, on the East Coast of Fife. The building was completed in March 2013.

The brief from the client was to consolidate several scattered locations of storage and office accommodation into a single location. This would not only successfully meet increasing commercial opportunities and operations, but also create a new welcome centre and professional face for the business ventures and strategies of the Links Trust. The client required the building's design to be sensitive visually and to incorporate green technologies in order to minimise environmental impact due to the site location on the St Andrews Links.

The relatively flat site was selected due to its' good access and heavy buffering of mature foliage from the adjacent main artery road to St. Andrews. The concept was to allow the building to blend with the landscape by use of form and materials. The following outlines the design strategy adopted to maintain this concept;
- The low rolling links landscape is the defining quality of the site, together with the striking coastal context.
- The immediate site context is characterised by a distinctly natural environment - to support this a palette of natural materials was used.
- The arched form is created by using natural timber glulam beams and a sedum "green roof" to continue the natural flow of the links environment. The form has a deliberate cut on the office side to allow natural light to penetrate the deep vaulted plan and also to create a terrace at first floor level overlooking the links. The open spans internally benefit the function of the warehouse in a double height volume. Internally a void space connects the two office spaces aiding natural lighting and ventilation.
- The building utilises natural lighting wherever possible. Three linear roof lights not only provide natural light to the deep plan; they are combined with integral ventilation louvres, assisted natural ventilation fans and other roof penetrations to keep the roof simple and elegant.

The total building area is 1500mm2, consisting of; 1000m2 Storage (including incoming and despatch area) and 450m2 Office / Welcome and Marketing Centre and Staff facilities.

PROJECT: St Andrews Links Trust
LOCATION: St Andrews
CLIENT: St Andrews Links Trust
ARCHITECT: Archial NORR
STRUCTURAL ENGINEER: Halcrow Yolles, CH2M Hill Company
SERVICES ENGINEER: Hulley and Kirkwood
QUANTITY SURVEYOR: Hardies Property and Construction Consultants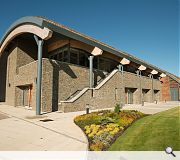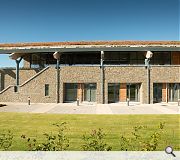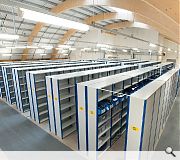 Suppliers:
Main Contractor: Robertson Construction
Back to Retail/Commercial/Industrial