Forth Valley College
The new Stirling Campus is set in a flat alluvial "carse" landscape adjacent to the River Forth. Until recently the site had been occupied by a livestock auction mart. The evolution of both the brief and the design was achieved through a collaborative conversation between client and architect, quickly agreeing on the fundamental attitude which centred around treating all learners with respect. The environment through which one passes to access an engineering workshop is as important as that for a business studies classroom.

The site is surrounded by fine views. To the west is a wooded hill (in front of which can be glimpsed Robert Matthew's Prudential Building), to the southeast Stirling Castle, to the north the Ochils ,while to the east the foreground is dominated by an attractive bend in the River Forth with the Wallace monument in the middle distance. Clearly there was a strong desire to capitalise on these, and this, coupled with an aspiration to provide a variety of external spaces, a low lying and horizontal diagram claiming areas of ground by pushing out to the extremities of the site.

This architectural diagram is straightforward; a workshop block lies to the north, turning through 90 degrees to house the Creative Industries studios, overlooking the river, To the south, a teaching block of classroom accommodation with the Learning Resource Centre (library) hanging over the main entrance at its west end. Linking these are the refectory, restaurant and conference facilities.

The extremities of the site are occupied by special functions – the north has Creative Industry studios, whilst the southeast has breakout zones with balconies, from which otters can be observed fishing in the river. The southwest has the library.

The building is clad throughout in a quality handmade brick, whose robust uniformity lends the building a powerful dignity. The tone is pale (the colour of a floury bap), with highlights of white, reflecting the washed out colours and tones of the landscape and sky in this open environment.

Classroom elevations are continuously glazed; large areas of uninterrupted glass interspersed with white pilasters and opening lights in deep recesses at low and high level, giving controlled natural ventilation. Glazing is held back from the elevation deliberately to express the thickness of the brick.

In communal areas the glass is moved out flush with the elevation, maintaining the plane of the envelope and expressing the sometimes dramatic volume of the building in a simple manner.

The front elevation is a complex layering of material and tone. The grey paved forecourt is partially screened by a line of columnar trees, and supports two large white concrete planters containing groups of Scots Pines. The centre of the building elevation is screened by a veil of ceramic tubes (baguettes), from behind which a large red maple emerges, and the actual elevation is of black brick laid vertically, casting a metaphorical shadow. This device allows the bicycle storage and kitchen elevations to become positive elements.

PROJECT: Forth Valley College
LOCATION: Drip Road, Stirling
CLIENT: Forth Valley College
ARCHITECT: Reiach & Hall
STRUCTURAL ENGINEER: halcrow Group
SERVICES ENGINEER: KJ Tait
QUANTITY SURVEYOR: Turner & Townsend
LANDSCAPE ARCHITECT: Horner + Maclennan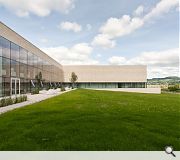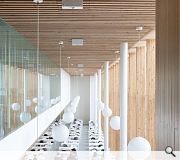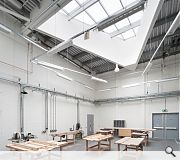 Suppliers:
Main Contractor: Miller Construction
Back to Education