Rosslyn Chapel Conservation & Visitors Centre
Set within the site of a Scheduled Ancient Monument, the extension to the Visitor Centre facilities at Rosslyn Chapel responds to a challenging brief. The existing facilities were under increasing pressure to cope with visitor numbers, and the Client needed to find a balance where these numbers did not impact negatively on the Chapel. The new facilities provide sufficient space for groups of visitors, interpretive exhibition, education, retail, café and ancillary/staff accommodation. The green oak frame maximises the flexibility of the internal layout and creates a much-needed feeling of space within the small building. The warm tones of natural oak compliment the restrained palette of locally sourced materials including copper roofing, Caithness floors, Clasach stone and tan leather sliding screens.

The development of interpretation both within the new centre and throughout the chapel grounds was intended as a visitor management tool to relieve pressure on vulnerable areas of the site, to enhance the visitor experience and raise awareness of the significance of the Chapel and its heritage.

The primary responsibility of Rosslyn Chapel Trust has been to ensure the long-term integrity of the Chapel itself. The stone nave and side aisle roofs were saturated with resultant heavy algae growth on internal surfaces. The elaborately carved stonework of the exterior had been subject to over 500 years of weathering and a wide range of decay was evident. The lack of an adequate heating system, poor internal lighting and stained glass in need of repair and conservation all posed a threat to the Chapel's future.

Following extensive research and debate, lead coverings and insulation were laid over the originally exposed stone roof vault and slabs and rainwater disposal more positively managed with lead detailing.

The external stonework was the subject of detailed survey aided by the use of laser scanning technology. Following extensive discussion with conservation specialists the decision was taken to undertake stone repair and conservation work on the exterior of the building using a range of 17 separate techniques. Stone conservators undertook this work over a period of 5 years using techniques more commonly used in museum conservation.

Repair and conservation of the stained glass ensured that the external envelope of the building is once again fit for purpose and has allowed a focus on the interior with a new remotely located bio-mass heating system installed to ensure the long term integrity of the building and its contents and the enhanced comfort of visitors to the Chapel.

The organ has been restored and a more sensitive lighting installation designed to provide an appropriate atmosphere. The future of the Chapel as a place of daily worship and as a focus of international visitor attention has been secured for the next 500 years with Rosslyn Chapel Trust committed to the appropriate levels of ongoing repair and maintenance.

PROJECT: Rosslyn Chapel Conservation & Visitors Centre
LOCATION: Chapel Loan, Roslin
CLIENT: Rosslyn Chapel Trust
ARCHITECT: Page\Park
STRUCTURAL ENGINEER: Elliot & Co
SERVICES ENGINEER: Harley Haddow LLP
QUANTITY SURVEYOR: Gardiner & Theobald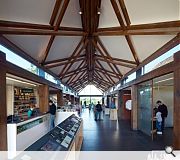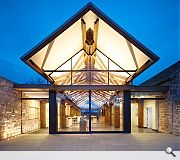 Suppliers:
Main Contractor: CBC Group Ltd
Back to Historic Buildings & Conservation