House on a Hill
A timber clad extension to an existing farm cottage, for a new development company, MAB Ltd, to house a young family and their children.
The house on a hill is a response arising from a sensibility and intention about architecture which places an emphasis on the pragmatic and develops our clients brief and their aspirations into, purposeful and appropriate spaces without profligacy or wilfulness. The house is contextual, it is site responsive, and it is contemporary. It could not have been realised in its finished form in any other place or time. The design aims for a good ordinariness. A pragmatic approach driven by the clients brief and the opportunities of the site, developed without formal agenda or polemic.
The modern kitchen is the heart of the family home and no longer a detached workplace; it is the place where friends and family are entertained, and children are raised. Here it is centralto the organisation of the plan in three dimensions, with surrounding space and volume defining circulation and the arrangement of public and private space. Corner windows subvert the introverted nature of the simple and appropriately scaled volumes, tracking the sun throughout the day and opening to the landscape and horizon beyond. Simultaneously inside and outside they transform the experience of the space from the introverted intimate focus of the hearth, to the expanse of the wilderness beyond.
Sustainable construction – with FSC sourced timber – is virtually carbon neutral, whilst high insulation levels and considered window openings keep heating and lighting loads to a minimum.
Whilst an unashamedly contemporary addition to an existing traditional cottage, the architecture is unassuming and robust. It sits comfortably and confidently in the unfolding history of a site which has been in constant occupation for the past two hundred years, and will endure and adapt for the inheritance of future generations.
All photography, Keith Hunter:
www.arcblue.com/keith-hunter
PROJECT: House on a Hill
LOCATION: Aberdeenshire
CLIENT: MAB Ltd
ARCHITECT: Paterson Architects
STRUCTURAL ENGINEER: David Narro Associates
SERVICES ENGINEER: Ironside Farrar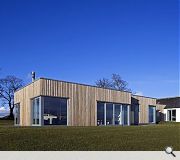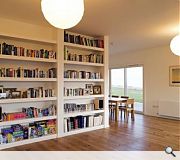 Suppliers:
Main Contractor: Part Bruce Construction
Back to Housing